Interdisciplinary Book and Paper Arts, MFA
"Working with Sally Alatalo of Sara Ranchouse Publishing and the highly skilled students at the Columbia College Chicago Book and Paper Studio, 500 pages of lentils in abaca paper were produced for my book in one day. This was a repeat visit for me and further reinforces my view that this is the best hand papermaking facility in the country!" - Alison Knowles, artist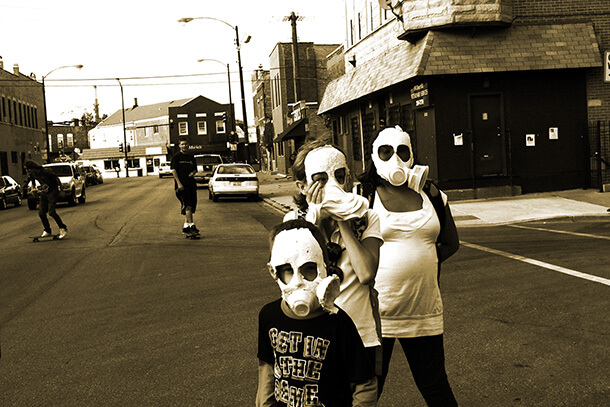 Degree Requirements
This three-year, 60-credit MFA comprises: Graduate Electives (27 credits), Book (2 credits), Paper (2 credits), Print (2 credits), Art as Discourse (3 credits), Art as Practice (3 credits), Connected Studio Practices (3 credits), History Requirement (6 credits), Theory/Practice Requirement (6 credits), and a Thesis (6 credits).
Diverse and Hybrid Coursework
Art and Art History has two graduate degrees. We encourage students to embrace the permeable nature of our programs to investigate a vast array of department offerings including studio courses in video, electronics, sound, interaction, performance, installation, and creative writing, and theory/practice courses addressing topics such as autobiographical art, the body, visual narratives, and art and science collaborations.
Read about the student experience
Transformative Education
"Through studio visits with faculty and visiting artists, to endless studio experimentation, the Interdisciplinary Book and Paper Arts MFA helped me become more fully aware of what I was actually trying to say with my work. And in terms of adventure in the program, traveling to Caracas, Venezuela, for a monthlong book and paper residency with local artists and being a member of the Amazon's Yanomami community was the cherry on top of an amazing three-year experience." - Maggie Puckett MFA '11
"I am a much more experimental artist than I was before I studied at Columbia College Chicago. Being part of the [Book and Paper MFA Program] gave me the freedom to explore my art from a variety of angles, develop an intersecting practice using old technologies (papermaking) with new media and performance, and challenged me to build new techniques while honing significant conceptual practices." - Alex Borgen MFA '14
Alumni Success Stories
Krista Franklin MFA '13 is a poet, visual artist and performer whose work often explores the conceptual concerns of Afrofuturism and Afro-Surrealism. She's been an artist in residence at Cave Canem in New York City, A Studio in the Woods in New Orleans, and Arts + Public Life/Center for the Study of Race, Politics and Culture at University of Chicago. Her poetry and mixed medium collages have been published in award-winning poetry collections and exhibited nationally.
Drew Matott MFA '08 is the co-founder of Green Door Studio, People's Republic of Paper, the Combat Paper Project, BluSeed Paper Mill, Free Your Mind Press, and the Peace Paper Project. He has taught at North Country Community College, the Community College of Vermont, Edgewood College and the Massachusetts College of Art. The recipient of numerous grants, awards, and residencies, Matott has had his artwork exhibited and collected internationally.
Daniel Mellis MFA '11 is print lab manager for the School of Design at the University of Illinois Circle Campus. His artists' books and other text-based artworks explore the poetry of philosophy, the phenomenology of space, the built environment, and the law using experimental letterpress and offset printing. His works have been exhibited internationally, including at the Gagosian Gallery in New York, and his work is in many collections, including Yale University, the Joan Flasch Artists' Book Collection at the SAIC and Oberlin College.
Maggie Puckett MFA '11 is an interdisciplinary artist, combining art, science and activism to explore the intersections of environment and social engagement. Her work has been included in numerous national exhibitions, including beyond earth art at the Johnson Museum of Contemporary Art at Cornell University, and Social Paper at the Center for Book and Paper Arts at Columbia College Chicago. Her interactive art projects have been shown at the Museum of Contemporary Art Chicago, and her work is in the collections of Dartmouth College, Smith College Museum of Art and UC Santa Barbara.
Jenna Rodriquez MFA '13 is the Victor Hammer Fellow at Wells College Book Arts Center, where she teaches undergraduate bookbinding, and is the assistant director of the Wells College Press. Her work, which explores the public and private experience of social engagement, is represented in numerous collections including at Yale University, George Mason University, Savannah College of Art and Design, and Otis College of Art and Design.
For More Information
Contact Paul Catanese, director of Graduate Studies for Art and Art History at pcatanese@colum.edu.