Celebrating the Dammeyer Fellowship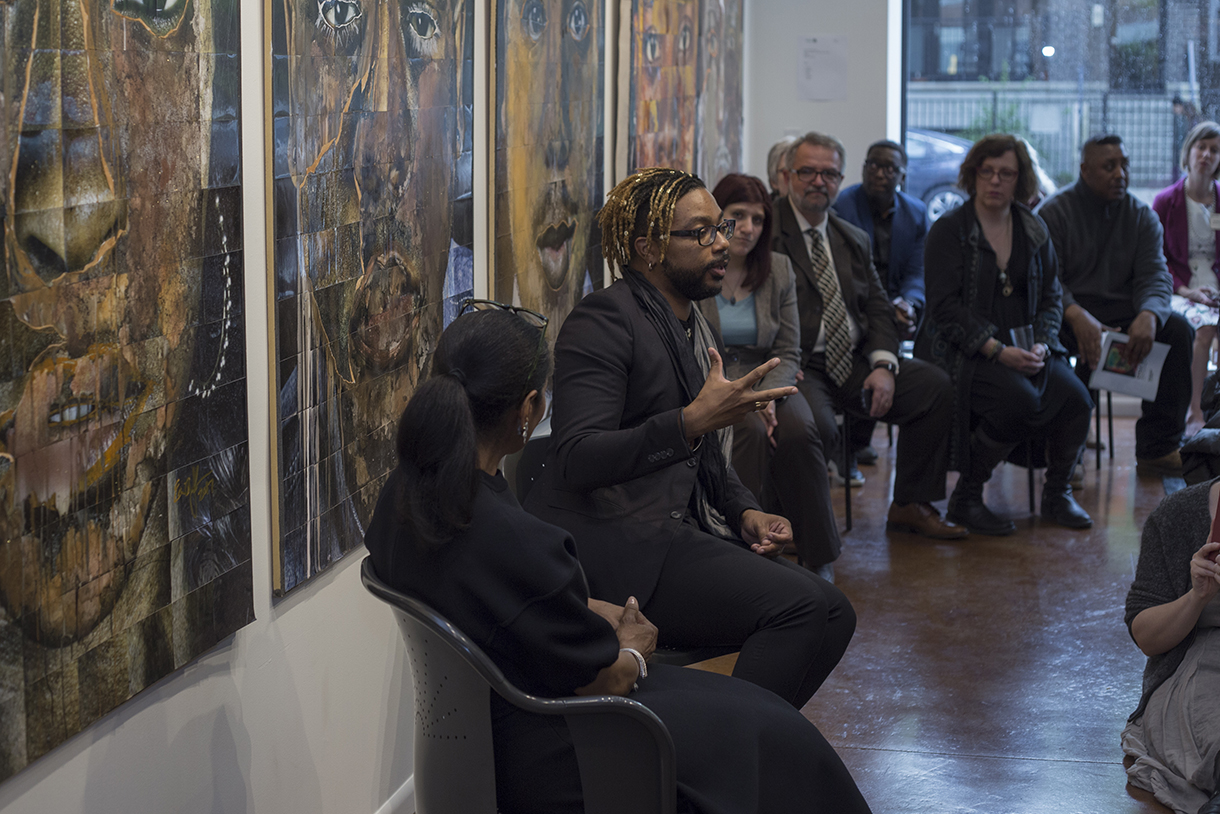 Ervin Johnson's Dammeyer Fellowship culminated in a weekend-long exhibition at Ravenswood's Gallery 19.
Ervin Johnson '12 stood backed by six larger-than-life portraits of black faces, their eyes outlined in paint and glitter. The May 4 opening of his #InHonor: Monolith exhibition at Ravenswood's Gallery 19 wrapped up his Diane Dammeyer Fellowship in Photographic Arts and Social Justice. Johnson's manipulated photographs—painted over, ripped, and highlighted with splashes of color—respond to the violence committed against black bodies in America today. And Johnson hopes his artwork will inspire big, important, difficult conversations about poverty, race, violence, and black resiliency.
"[This project] is about being forceful with the canvas, putting that trauma onto it," says Johnson. "And what comes to exist after that—these resilient objects which, for me, are a stand-in for the black spirit."
Columbia College Chicago and Heartland Alliance, a Chicago-based anti-poverty organization, partner for the Diane Dammeyer Fellowship in Photographic Arts and Social Justice. Each academic year, the Dammeyer fellow receives a $25,000 stipend to create socially conscious work and highlight Heartland's antipoverty mission. Johnson began his Dammeyer Fellowship in September 2016; Now, nine months later, he culminated his fellowship with a weekend-long exhibition at Gallery 19 including an opening reception, artist talks, and plenty of discussions on the topics of his work: trauma, police brutality, the power of the black body, and how all these ideas combine in the portraits covering the walls.
The Dammeyer Fellowship aims to engage people in difficult conversations on topics they might otherwise avoid. "That was the original idea—to cause discussion and to get things out that we can't talk about, and to use art to do it," says Diane Dammeyer, photographer and donor behind the fellowship, who was in attendance to celebrate the end of Johnson's residency. "Art is a communicator. It tells a story all on its own."
Dammeyer attended Columbia herself, where she studied photography under professor Judy Natal—who now mentors each year's Dammeyer fellow. As a freshman, she also worked at Heartland Alliance, where she photographed Heartland programs to fulfill class assignments. Through those projects, she explored the human side of poverty through her camera lens. In 2014, she established the Dammeyer Fellowship to give other artists the same opportunity.
Vice President of Development Shawn Wax hopes the fellowship will become one of the most competitive opportunities on campus—all thanks to Dammeyer's generous donation and artistic insight. "Modern philanthropists are seeking innovative solutions to large, complex problems," he says. "The largest gifts in higher education have always been associated with the biggest and boldest ideas."
Surrounded by his artwork at Gallery 19, Johnson talked about his motivations—from tragedies like the murder of Trayvon Martin to the inspiration he pulls from his mother. "This work is resiliency. It's not about trauma. It's the black spirit—how we exist, post-trauma, in this country. In this world," he says.
Dammeyer hopes the fellowship will inspire more spirited discussions as it continues to grow. "I want to do more of this. I want to hold events in social environments, in other galleries," she says. "And have people feel the emotion that you feel in this room—and feel it for the [Heartland] participants. That's my motivation."
Read more about the Diane Dammeyer Fellowship in Photographic Arts and Social Issues here.