Columbia College Chicago Announces Fall 2017 Reading Series featuring Mary Gaitskill, Ishion Hutchinson, and More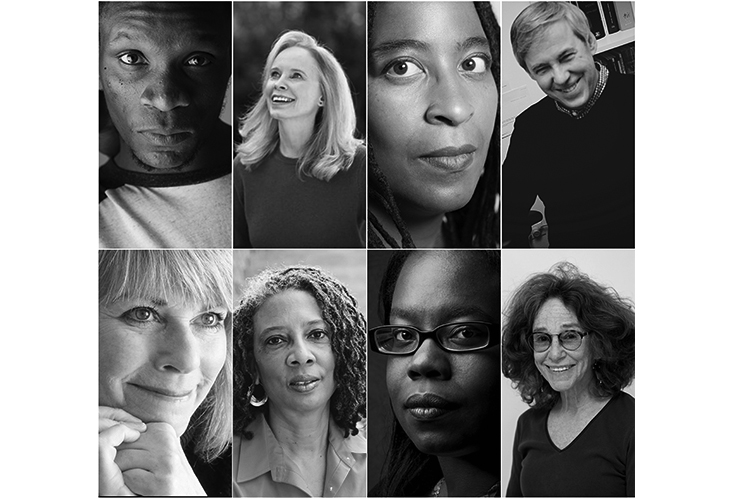 English and Creative Writing Department presents free literary events to celebrate and connect art with learning and community; first reading to be held on Sept 27
CHICAGO (September 1, 2017)—Columbia College Chicago's English and Creative Writing Department announces its Fall 2017 Reading Series line-up, featuring diverse, award-winning, and notable writers of fiction, nonfiction, and poetry. The series showcases literary talent who will share with audiences the art and practice of writing and spoken word, and represents Columbia's continued role in integrating artistic expression with student learning and community enrichment. The readings, which begin on Sept. 27, are free and open to the public.
"Our reading series continues to provide our students the opportunity to engage directly with preeminent writers of our time, from the American treasure Mary Gaitskill, to the Jamaican-born poet and recipient of the National Book Critics Circle Award for Poetry Ishion Hutchinson," says Kenneth Daley, chair of the English and Creative Writing Department. "We welcome this year's group of writers to join our own distinguished faculty in sharing their work and engaging the community." 
Columbia launched the series in 2015 to provide a cross-genre performance space for prestigious writers and poets from diverse disciplines and traditions. Since then, the event has drawn writers from the historic literary scene in Chicago and beyond who educate audiences on craft, poetics, storytelling, and creative process. Former presenters include Chuck Klosterman, Maggie Nelson, and Tracy K. Smith.
Each reading will open with a graduate student reader and close with a Q&A session with the audience. Selected titles will be available for sale.
The Fall 2017-18 lineup is as follows:
Wednesday, Sept. 27
Mary Gaitskill and T.J. Jarrett
5:30 p.m.
618 S. Michigan Ave., 2nd Floor
Mary Gaitskill is the author of the novels The Mare; Two Girls, Fat and Thin; and Veronica, which was nominated for the 2005 National Book Award, National Critic's Circle Award, and LA Times Book Award. She is also the author of the story collections Don't Cry, Bad Behavior, and Because They Wanted To. She was awarded a Guggenheim Fellowship for fiction and a Cullman Research Fellowship at the New York Public Library. Gaitskill's latest work is the essay collection Somebody with a Little Hammer.
T.J. Jarrett is a writer and software developer in Nashville, Tennessee. Her collection, The Moon Looks Down and Laughs, was selected as a finalist for the 2010 Tampa Review Prize for Poetry. Her debut collection, Ain't No Grave, was a finalist for the 2013 Balcones Prize and was published with New Issues Press. Her second collection, Zion, won the Crab Orchard Open Competition in 2013.
Tuesday, Oct. 10
Camille T. Dungy and Sharon Solwitz
5:30 p.m.
618 S. Michigan Ave., 2nd Floor
Camille T. Dungy is the author of four collections of poetry, most recently Trophic Cascade. She has also edited a number of anthologies, including Black Nature: Four Centuries of African American Nature Poetry. Her latest is the essay collection Guidebook to Relative Strangers: Journeys into Race, Motherhood, and History. Dungy is a professor at Colorado State University.
Sharon Solwitz's works include a novel, Bloody Mary, and a collection of stories, Blood and Milk, which was a finalist for the National Jewish Book Award. Accolades for her individual stories include the Pushcart Prize, the Katherine Anne Porter Prize, the Nelson Algren Literary Award, and grants and fellowships from the Illinois Arts Council. Her latest novel is Once, in Lourdes. Solwitz teaches fiction writing at Purdue University.
Monday, Oct. 23
David Trinidad and Desiree Cooper
5:30 p.m.
623 S. Wabash Ave., Room 109
David Trinidad's books of poems include Dear Prudence: New and Selected Poems, Peyton Place: A Haiku Soap Opera, and Notes on a Past Life. He is also the editor of A Fast Life: The Collected Poems of Tim Dlugos. His latest book of poems is Swinging on a Star. Trinidad is a professor of Creative Writing at Columbia College Chicago.
Desiree Cooper is a former attorney and Pulitzer Prize-nominated journalist. She won a 2017 Michigan Notable Book award for her debut collection of flash fiction, Know the Mother, and received a 2017 Next Generation Indie Book Award among others. Cooper is a 2015 Kresge Artist Fellow and a founding board member of Cave Canem, a national residency for emerging black poets. Cooper is currently a Kimbilio Fellow, a national residency for African-American fiction writers. 
Thursday, Nov. 9
Ishion Hutchinson and Patricia Ann McNair
5:30 p.m.
623 S. Wabash Ave., Room 109
Ishion Hutchinson is the recipient of the National Book Critics Circle Award for Poetry, a Guggenheim Fellowship, the Whiting Writers Award, the PEN/Joyce Osterweil Award, and the Larry Levis Prize from the Academy of American Poets, among others. He is the author of two poetry collections, Far District and House of Lords and Commons. Hutchinson is the current Joseph Brodsky Rome Prize Fellow residing at the American Academy in Rome, Italy. 
Patricia Ann McNair's collection of linked stories, The Temple of Air, received the Chicago Writers Association Book of the Year Award, Southern Illinois University's Devil's Kitchen Reading Award, and the Society of Midland Authors Finalist Award. McNair has written a collection of essays and brief memoir pieces including And These Are The Good Times: A Chicago gal riffs on death, sex, life, dancing, writing, wonder, loneliness, place, family, faith, coffee, and the FBI (among other things). She has received several awards from the Illinois Arts Council and has been nominated for a Pushcart Prize in fiction and nonfiction. McNair is an associate professor of Creative Writing at Columbia College Chicago.
 ###
The Columbia College Chicago Reading Series is committed to curating critically engaged contemporary works that challenge traditional discourse and embrace culturally relevant, diverse voices. The college's unique connection to the vibrant cultural and educational district in the South Loop also sets the stage for some of the most fascinating, inspiring, and influential conversations on the literary arts.
Columbia College Chicago is a private, nonprofit college offering a distinctive curriculum that blends creative and media arts, liberal arts and business for more than 8,000 students in more than 100 undergraduate and graduate degree programs. Dedicated to academic excellence and long-term career success, Columbia College Chicago creates a dynamic, challenging and collaborative space for students who experience the world through a creative lens. For more information, visit colum.edu.
MEDIA INQUIRIES

Danielle Wilcox

dwilcox@colum.edu
312-369-7937