Alumni Shorts
DEMO Alumni Shorts
Alumni updates at a glance.
Triple Threat
Actress Nadine Velazquez '01 reflects on three of her iconic television roles.
Nadine Velazquez and co-star Nick Kroll on The League.
1. CATALINA ON MY NAME IS EARL
I was the very, very last audition. It was between me and Ivana Milicevic, who is a friend. She was going to play a Russian Catalina and I was going to play Latina Catalina. I love this plot so much that tears are going to happen once I walk away, because who knows, right? We were walking out of the room, and I just fell on the floor. I was like, "I'm not ready to get in the elevator, I just want to stay here a little longer." And I see the show creator and he's clearly beaming. And he says, "So I guess I'll see you soon." I laugh and I'm like, "I hope so." And he says, "It's yours, congratulations."
2. SOPHIA RUXIN ON THE LEAGUE
I never thought that show was going to be as big as it became on FX. I was able to be freer and create something there [with Sophia]. She didn't need an accent. I didn't need to be overly sexy. All I needed to do was to be able to play spontaneously and improvise. That character just kind of got created between me and [co-star Nick Kroll]. It was just about the energy between us and what feels right, right now.
3. JACKIE ORTIZ ON SIX 
Jackie came as a result of me just having this new idea of being strong, and not being afraid of being strong. There's a body language that comes with being a strong woman—a way that you stand on camera. What does it look like to put somebody in place or to manage a situation and completely be a leader but also be feminine—also have a feminine heart, also care and fight for love rather than for being right or being the strongest? That's Jackie.
---
Curtain Call
AJ Ware '08 will direct The Penelopiad at the newly renovated Getz Theater Center.
Theatre alum and Jackalope Theatre co-founder AJ Ware returns to Columbia College Chicago this fall to direct the first student production of the 2018-19 school year: Margaret Atwood's The Penelopiad. The play serves as Penelope's version of The Odyssey, depicting Penelope and her 12 maids as they work to thwart the suitors who seek Penelope's hand. The play will show October 18-27 at the newly renovated Getz Theater Center.
HOW DOES IT FEEL TO RETURN TO COLUMBIA TO DIRECT FOR THE THEATRE DEPARTMENT?
There are a lot of familiar faces and it feels very welcoming. Also, the entire building has been completely remodeled. It's almost unrecognizable from when I went here. The theater that I'm working in had a gut rehab of the entire space; it's gorgeous. Students are going to have the opportunity to do much more: more modern-looking things, more contemporary-feeling things, which will give them a chance to do work that's comparable to the theatre world right now.
WHY IS THE PENELOPIAD AN IMPORTANT PLAY FOR THE SCHOOL TO PUT ON?
The story of Penelope had not been told in this way before Margaret Atwood wrote the book. Telling the story from her point of view is important because we're at a time right now where we have a new language around power, around gender dynamics.
---
Spice Up Your Life
Janet Johnston '93 is here to enhance your cooking.
Janet Johnston cofounded Savory Spice shop with her husband Mike (who asked her to marry him and start the shop in the same breath). Fourteen years in, the duo have franchised in 15 states, with no signs of slowing down. Here, Johnston presents five spices that will help make any meal exciting:
SAIGON CINNAMON
"This cinnamon has a higher oil content than normal grocery store cinnamon, which is usually Indonesian," says Johnston. "I use this for everything, from baking to on top of my morning oatmeal."
TOMATO POWDER
"I use this as my tomato paste by adding water," she says. "I no longer have to use one or two tablespoons out of a can of paste and waste the rest. I also like to use it to thicken sauces by adding it as the powder."
MILD YELLOW CURRY POWDER
"I think you can use curry powder for more than just a traditional curry dish. I've used it in my pumpkin pie which gave it an earthy, exotic flavor," Johnston says. "Or toss a little in your next smoothie, as it has a lot of turmeric, a 'good for you' spice."
DEHYDRATED MINCED GARLIC
"This would be one of my husband Mike's favorite go-to's," she says. "Instead of keeping a garlic bulb on hand, toss this into your sauces and soups, and it will rehydrate just like the fresh!"
WHISKEY BARREL SMOKED BLACK PEPPER
"We smoke our own black pepper with whiskey barrel wood from a local distillery here in Denver," says Johnston. "This is a new product and we can barely keep up with demand. People use it as they would normal pepper, but it adds a subtle, boozy smokiness to the dish."
---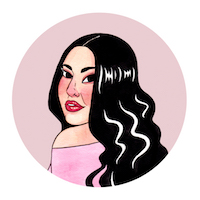 Hey Miss DJ
Maha Gorgi '11 remembers her school days through three choice songs
Tune in to Chicago's WPWX Power 92.3 FM, and you might hear Maha Gorgi. A Columbia College Chicago Radio alum, Gorgi has been a radio personality and DJ for Power 92 since 2014. We asked Gorgi to make a playlist for DEMO readers to remember those good old Columbia days.
COLUMBIA THROWBACK PLAYLIST
"Blame It (Feat. T-Pain)" by Jamie Foxx—Well, some of my college days were a blur, and this song explains why…
"Marvin & Chardonnay (Feat. Kanye West and Roscoe Dash)" by Big Sean—I remember hearing this song in all the clubs during my time at Columbia. It came on either before or after "Blame It!"
"No Hands (Feat. Wale and Roscoe Dash)" by Waka Flocka—No matter what was happening, once this song would drop, all the ladies were on the dance floor. It was the perfect "turn up" record during college.