Alumni Shorts
Alumni updates at a glance.
---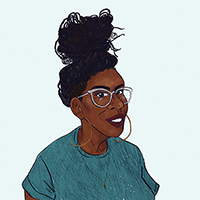 SETTING THE SCENE
Location scout Sandrel Young shares her favorite filming spots in Chicago.
As a location scout for movies and television, former student Sandrel "Sanicole" Young matches a screenwriter's vision to Chicago's landscape. Today, she works on the Showtime drama The Chi, created by Lena Waithe '06 and filmed on the city's South Side. Here, Young shares her top three Chicago filming locations with DEMO readers.
CHICAGO POST OFFICE, 404 W. HARRISON ST.
"The opening scene of The Dark Knight was filmed at this location, and it was probably one of the greatest locations I ever got to scout. It's very retro, and the space is huge. When you watch that opening scene, you really don't get a sense how large that place is once you're inside."
THE OGDEN SLIP, STREETERVILLE
"It's just a slip of water, but there are a lot of patios and businesses around it. It's a really nice area."
"Lower Wacker is a really interesting area, and this job has forced me to learn it. It has a lot of qualities that a lot of cities don't have, and I think it's why Chicago is so unique. A lot of films want to come here to shoot because we have places like Lower Wacker Drive. It can be transformed into a different world if the director has a vision to make it something outside of itself."
---
ANNA SHAPIRO DOESN'T BELIEVE IN DISASTERS
The artistic director of the Steppenwolf Theatre remembers figuring it out in a Columbia classroom.
Before Anna Shapiro '90, HDR '15 won a Tony Award or stepped up as artistic director of Chicago's renowned Steppenwolf Theatre, she was learning in a Columbia College Chicago classroom. When she returned to campus to deliver the keynote address at Theatre Reunion Weekend this October, she talked with DEMO about how the Theatre Department gave her the space to make mistakes—and why she doesn't believe in disasters:
"I mean, isn't [college] the time where we don't have to use [the word disaster]? You know, making theatre is also a very emotional thing. Sometimes people are drawn to it for reasons they don't understand, and their vulnerability can create situations that are really tough for young people to manage. But those aren't disasters. Those are gifts. Those are important moments where you're in a room with a bunch of people trying to figure out how to do something and you realize: Someone in here is hurting or lost and we don't have any grown-up in here telling us how we're supposed to handle this. We just have to make good decisions."
A BEAUTIFUL DAY IN THE NEIGHBORHOOD 
Caryn Capotosto '99 talks lessons learned as a producer of the new Mr. Rogers documentary.
"I grew up with Mister Rogers, but to be honest, I didn't connect with the show as much as my younger sister did," says Caryn Capotosto. "I may even have teased her once or twice for watching it." Fast-forward to today: Capotosto works as a documentary producer for Tremolo Productions in Los Angeles. She worked on the company's film, Won't You Be My Neighbor?, which explores how Fred Rogers became a childhood icon for generations of Americans. Capotosto shares a few of the lessons she learned while working on the film.
As an adult, I wanted to get to know the real guy inside the cardigan, and to find out what compelled Fred Rogers to devote his entire career to care for generations of American kids through his TV show.

The most eye-opening thing I learned about Mister Rogers was that his show was not just for children, but also for adults. As much as he was talking to kids in front of the TV, he was also talking to their parents, essentially providing lessons and support for how to raise emotionally healthy children.

He modeled a form of parenting that was built on communication, understanding, and kindness— all lessons that adults could carry with them into the world.

His reassuring voice was one that I didn't even know I missed, but that I needed to hear today more than I even realized.
---
ALL IN THE FAMILY
The Mother-daughter duo Roz Varon '80 and Sara Janz '18 remember their fomative Columbia classes.
Since 1989, Roz Varon has been on air as the ABC 7 News Chicago traffic anchor. Sara Janz freelances in television production: Just two weeks after graduating, she worked as a production assistant at the PGA Seniors Tournament.
They just happen to be mother and daughter.
The duo returned to Columbia College Chicago's Open House stage in October. Here, they both discuss their most formative Columbia classes.
ROZ VARON
Commercial Announcing
I took Commercial Announcing with Al Parker, who was the booth announcer at Channel 7 and the radio department chair. He was so instrumental in helping my career. In the Commercial Announcing class, we had to learn the internal sense of timing. Al would say, "Read this commercial spot in 30 seconds," and he'd time it. We would read it and he would say, "Now read it in 29.5."
Columbia's impact on me was so strong and so influential in my career. When I found out my daughter was interested in TV production, I knew it was a perfect fit for her.
SARA JANZ
Culture, Race, and Media
My junior year I took a class called Culture, Race, and Media—anyone can, and should, take it. I loved my instructor and the sense of support and community she encouraged when discussing controversial topics. My final project was to create a work of art based on my major on one of the topics we discussed in class. I chose to make a video PSA on gender equality. I wrote it, shot it, edited it, composed original music for it—in fact, I entered it for a Crystal Pillar Award, which is the equivalent of a student Emmy— and I won!
My mom spoke so highly of Columbia, especially the fact that as a freshman you could take classes in your major. It really influenced my decision in wanting to go there.