Musical Theatre (BA | BFA)
Gain experience and build a diverse resume in the Musical Theatre programs at Columbia College Chicago. Our programs are designed to help you succeed in a competitive industry by fostering concrete professional skills with a variety of performance experiences. As a Musical Theatre major, you'll receive the education you'll need to become a multifaceted performer and theatre professional.  
We stage between 20 and 40 productions a year, and encourage new students to audition right away for musicals and nonmusical productions. Many Columbia Musical Theatre majors perform in student films, devised productions, and off-campus productions. You'll become adept at auditioning, learn about the business side of theatre, and develop transferable skills applicable to many professions.
---
Columbia College Chicago offers two degrees in musical theatre: the Bachelor of Arts (BA) in Musical Theatre and the Bachelor of Fine Arts (BFA) in Musical Theatre Performance. The BFA is a highly structured, rigorous program requiring progressively intense training in musicianship, dance technique, and acting styles. The BA provides a foundation in musical theatre while allowing students the flexibility to explore other theatre courses, minor in another subject, or double major. BA and BFA students have equal opportunities to audition for all productions at Columbia.
If you plan to apply directly to the BFA program, you'll need to include some additional materials.
View course requirements:
---
Performance Opportunities
---
Columbia proudly features the Mainstage series, a series of productions directed by faculty members and guest artists. Outside the Mainstage season, students write, direct, and stage their own work, which they refine in workshops with faculty, alumni, and peers.
---
The Getz Theatre Center
The Getz Theatre Center has four professional-quality stages, a state-of-the-art scene shop, stocked costume shop, and dedicated makeup/prosthetics and lighting labs.
---
---
You'll learn how to create credible characters through research, rehearsal, and text analysis. You'll also learn how to bring characters to life onstage as an actor, singer, and dancer.
You'll take a series of acting-styles classes and work with musical theatre professionals to learn proper singing techniques, different dance styles (ballet, jazz, tap, and musical theatre), and various methods for interpreting songs.
You'll take foundational courses in musical theatre repertory and history, and learn how to analyze performances. These courses will inform your performance skills and contextualize artistic trends and markets.
You'll take professionalism and auditioning classes that will teach you about contracts, unions, and bookkeeping for performers, and help you build your audition repertoire. In these courses, you'll also learn how to interact with theatre companies, talent agencies, and casting directors.
You'll have the opportunity to develop your unique artistic voice as it relates to diverse identities, cultural worldviews, and institutional frameworks.
---
Chicago is home to a vibrant theatre community. You'll see productions in Chicago's theatre district, located just down the street from campus. Chicago is also home to innovative storefront theaters.
Our faculty's strong connection to the Chicago and national theatre scene means we continually build opportunities for students. Through their working relationships with faculty members, some students even land professional jobs during their time at Columbia College Chicago. 
---
Columbia faculty members do what they teach. You'll study with professional actors, writers, directors, choreographers, and designers who work in Chicago and New York, across the country and abroad.
---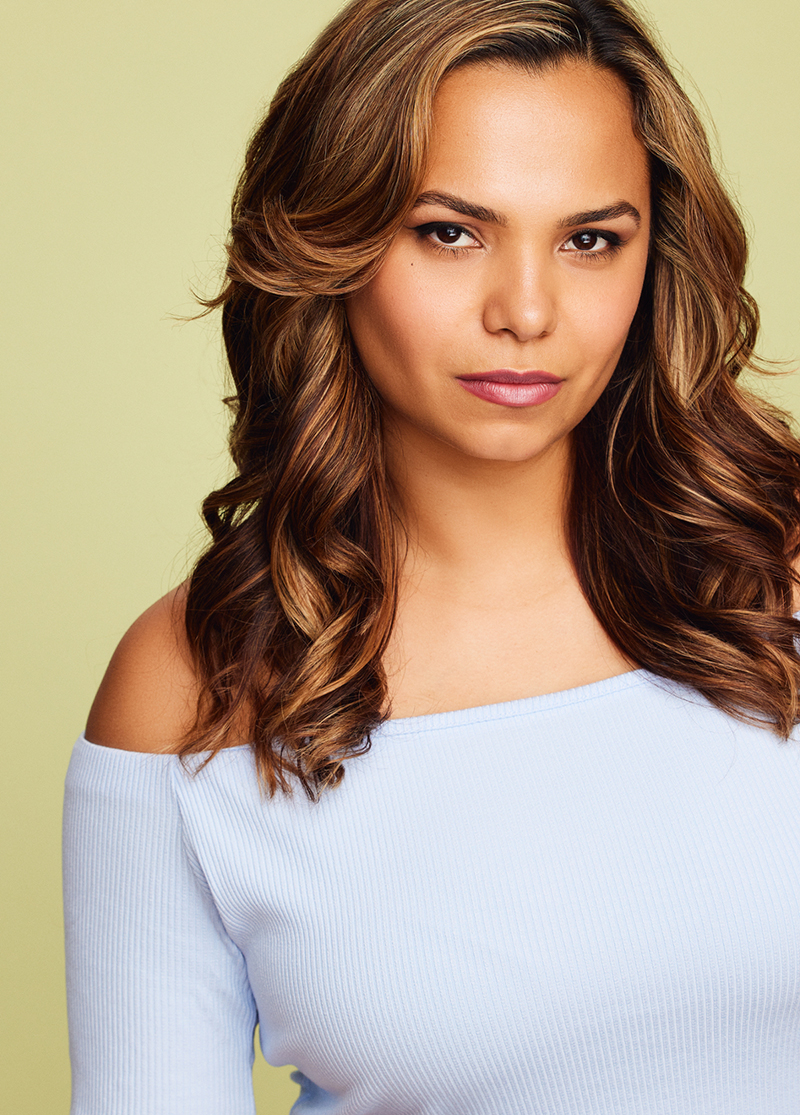 Amy Toruño is a Nicaraguan native raised in Miami, Florida. She holds an MFA in theatre from the University of Illinois at Urbana-Champaign and a BA in vocal performance from the University of Iowa. Currently, she serves as the director of education at Hope Summer Rep and has previously taught at the University of Illinois Urbana-Champaign and the Miami Children's Museum. Some of her favorite performance credits include A Gentleman's Guide to Love and Murder, References to Salvador Dalí Make Me Hot, Cabaret, and Native Gardens.
She is the author of a biographical collection of poems, as well as the winner of the 2021 Kennedy Center's Latinx Playwright Award for her play Temporary,based on her mother's cross to the U.S.
Amy resides in Chicago and is passionate about building opportunities for folks of color in the American theatre. She is a practitioner-in-residence in the musical theatre BA and BFA programs. Classes currently taught include musical theatre history, musical theatre foundations, musical theatre scene study and musical theatre III: workshop II.
---
Courtney Mack '15 and Mallory Maedke '14 chosen to join the Broadway production of Six.
Alumni Highlights
Michael George '17 performs as a swing, or understudy, for the Chicago production of the musical Hamilton.
Harter Clingman '11 was cast as one of the lead players (Oz) in the first Broadway national tour of the hit musical Come From Away.
Michael Kurowski '16 performed in the national touring company of the Tony Award-winning musical Once.
Courtney Mack '15 won a Joseph Jefferson Award for best actress in Heathers: The Musical, and has had roles in Million Dollar Quartet and Mamma Mia! (The Paramount Theatre), Side Show (Porchlight Music Theatre), Cabaret, and Urinetown.
Mallory Maedke '14 was in the 50th anniversary production of Hair at Chicago's Mercury Theater. She also had roles in The Little Mermaid and Hairspray at The Paramount Theatre.
Shantel Cribbs '17 and Louis Ridis '17 were accepted into the Musical Theatre Dance program at the prestigious School at Jacob's Pillow, and were featured in Memphis at Porchlight Music Theatre and in Marie Christine at BoHo.
Ashley Mondisa '14 founded theatre company Mondisa Monde Productions. She wrote, directed, produced, and arranged Black Vs. All, which premiered at Gorilla Tango Theatre.
Callie Johnson '12 won the Joseph Jefferson Award for Pal Joey at Porchlight Music Theatre, and has played roles at Drury Lane, Marriot Lincolnshire, and Writer's Theatre. She has also appeared in Chicago P.D. and Chicago Med.
Harter Clingman '11 played Alf in the national tour of Peter and the Star Catcher, and has been featured in major theaters around Chicago. He also performed in South Pacific at Drury Lane Theatre. In 2018, he was cast in one of the lead roles in the first Broadway national tour of hit musical Come From Away.
Check out The Green Room for the latest alumni updates.
---
Check
out other degrees in Theatre:
Many Musical Theatre BA students pursue a minor. Popular minors include: