Photography (BA | BFA)
You'll create images in your very first class in Columbia College Chicago's Photography bachelor's degree program. Our faculty of award-winning professional photographers will meet you where you are. If you're new to the craft, they'll help you get started. If you're already familiar with photography, they'll place you in an appropriate level. Photography majors choose a concentration in Fashion, Commercial, or Fine Art Photography. Concentrating your studies will give you an edge in a specialized area. Or, you can learn the ropes across disciplines by pursuing a general degree.

Photo: Ola Orlikowska '18
You'll make images constantly at Columbia College Chicago. You'll have access to professional equipment, including studios, cameras, lenses, and digital software and printers. You'll learn to articulate your point of view through regular critiques with faculty members and your peers. Chicago will be your campus—and your inspiration. You'll have opportunities to work at studios, galleries, museums, and companies in the city.
---
Concentrations
We offer three concentrations so you can specialize in an area that suits your career interests. Most students choose a concentration by the end of their second year. If you do not want to specialize, you can choose a general degree track that will allow you to sample all three concentrations.
Commercial Photography
As a commercial photographer, you'll need to know how to photograph a variety of people, places, and products for advertising and marketing. In this concentration, you'll learn to create project briefs, submit bids and quotes for jobs, and work with art directors, designers, and clients.
Fine Art Photography
As a fine art photographer, you'll hone your vision and experiment with methods and strategies. You'll learn about the history and theory of photography practice. This will inform your long-term projects that can range from documentary to experimental. You'll study and live near museums and galleries, where you'll gain a full appreciation of the photographic medium.
Fashion Photography
As a fashion photographer, you'll need experience both on location and in the studio. You'll learn how to manage models and clients both on site and behind the scenes. You'll develop a solid background in production work. You'll learn about lighting, styling, hair and makeup, and digital retouching. You'll also work with merchandisers and designers to gain real-world experience in the business of fashion.
---
The first year of Columbia's Photography program is exploratory. You'll jump right in no matter your skill level and begin experimenting with different approaches. We encourage students to take a voluntary placement exam early in their first semester, so they can start at a level appropriate for their skillset.

Core courses in Photography will introduce you to the craft of making a photograph, the history of photography, and image strategies. You'll build on this foundation with specific courses in your concentration.

Your last year is a capstone. All the skills and techniques you've developed come full-circle for your final exhibition. You'll exhibit your work in a large-scale gallery as part of Manifest, Columbia's urban arts festival. You'll work all year to develop your own project; this is the work that you'll take into the industry as a graduate.

With help from your faculty mentors, peers, and Columbia's Career Center, you'll create a professional portfolio, website, and brand to suit your career goals. You'll take courses in portfolio development, self-management, and freelancing. You'll also meet regularly with faculty members and industry insiders to learn how to navigate your career.
---
Creative and Media Spaces
---
Photography Facilities
Photography students have access to a state-of-the-art ink jet print lab and lighting studio, as well as extensive darkrooms.
---
---
The Museum of Contemporary Photography
Columbia College Chicago is home to an international hub for contemporary photography, the Museum of Contemporary Photography (MoCP). The museum brings some of the world's most innovative artists to Chicago each year through exhibits and programming.
Students have opportunities to work at the MoCP as interns and assistants. The museum also serves as a classroom, where students can view prints from the museum's extensive collection.
The MoCP cohosts the Lectures in Photography series with the Photography Department. The series features artists, curators, and scholars from around the world.
All Columbia College Chicago students also get free access to the Art Institute of Chicago and the Museum of Modern Art.
---
Internship and Study Abroad Opportunities
Most Photography students pursue at least one internship starting their junior year. The Career Center will help you find an internship with industry partners such as museums, commercial studios, independent freelance studios, agencies, and other businesses. Many students find post-graduate work by networking through their internships. We also call on our alumni network to help connect students to internship and mentorship opportunities.
You'll have access to study abroad opportunities designed for photographers. One program features intensive courses in Ballyvaughan, Ireland at the Burren College of Art. Our Photography Exchange Programs include opportunities in Singapore, England, and Ireland.
---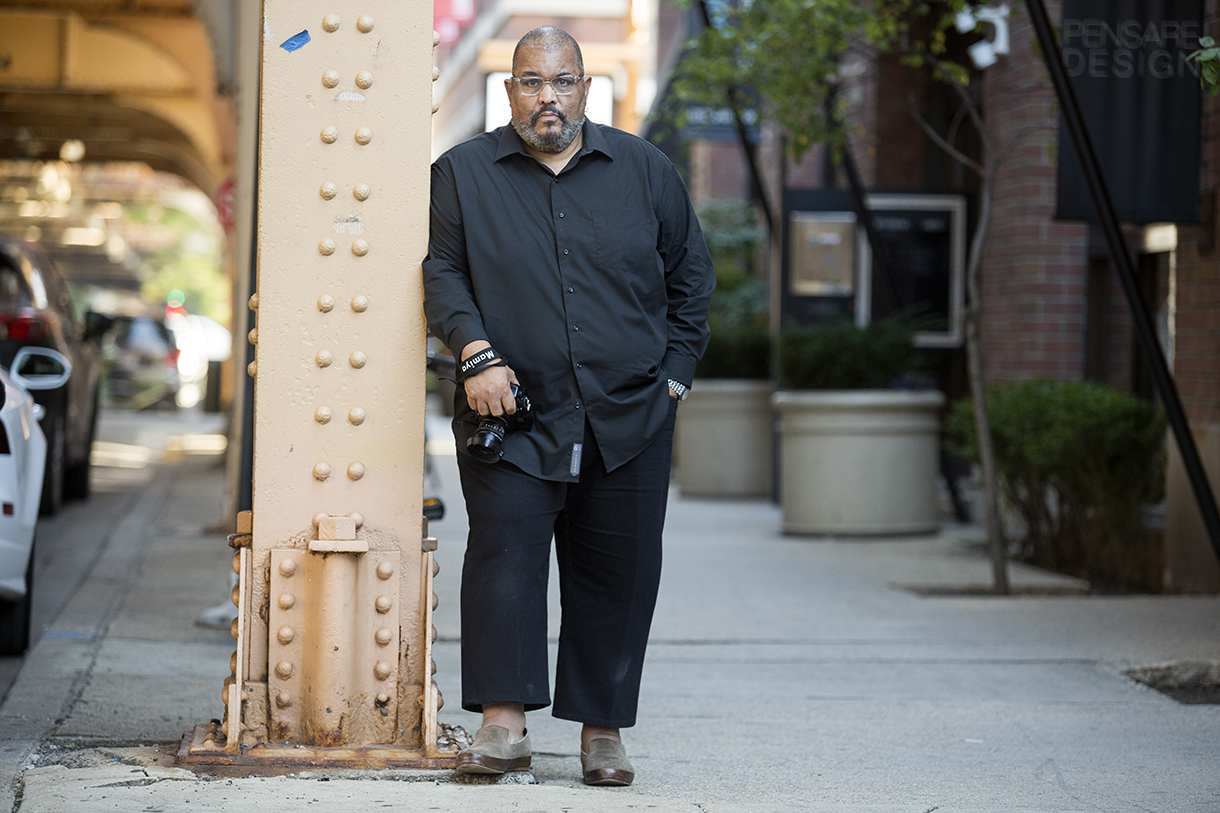 Photo: John D. & Catherine T. MacArthur Foundation
Professor Dawoud Bey's important contributions to photography were recognized by the MacArthur Foundation.
The Columbia College Chicago Photography faculty includes award-winning artists representing a diverse range of styles and ideas. Each faculty member brings unique industry experience and perspective to the classroom and builds strong relationships with students.
---
"The classes I took in photography ended up leading me to being a curator—and I think ended up making me a better curator."
Greg Harris '06
Columbia College Chicago alumni are active in the photography industry. They are independent freelancers, photo assistants and stylists, digital retouchers, photo editors, fashion photographers, studio managers and owners, art directors and advertisers, exhibiting fine artists, gallery curators, and creatives in many other fields.
Alumni Highlights
Katie Levine '14 is a NYC-based fashion photographer who creates images for publications, designers, and celebrities. She was a photo assistant for legendary photographer Annie Lebovitz, as well as Leslie Kirchhoff and David Paul Larson.
Ryan Lowry '11 is a contemporary photographer whose portrait work has been commissioned by some of the world's biggest brands, from Apple to United Airlines. His work has been seen in Vogue, GQ, Rolling Stone, The New York Times, and Fast Company.
Matt Austin '09 founded and runs an independent book publishing company, Candor Arts. The company specializes in books that focus on life, learning, and healing.
Alex Wieder '14 is the tech director at Latitude Chicago, a non-profit community digital lab that also organizes arts programming.
Hannah Soto '12 started Grey House Productions, which helps set up and run shoots for clients. This includes things like location scouting, talent and crew coordination, and equipment rentals. Soto has worked with clients including Google, Apple, and Nike, as well as agencies such as Leo Burnett and Ogilvy.
Martha Williams '02 is the director of photography at Chicago magazine, where she assigns and manages all photography for the publication. She started out as a photo editor at Time Out Chicago, and also a freelance photography company.
---
The Photography BA gives you time to explore other interests. Many students pursue a minor or double-major. Popular minors include: