Fashion Studies Students Partner With Apparel Company to Create Adaptive Clothing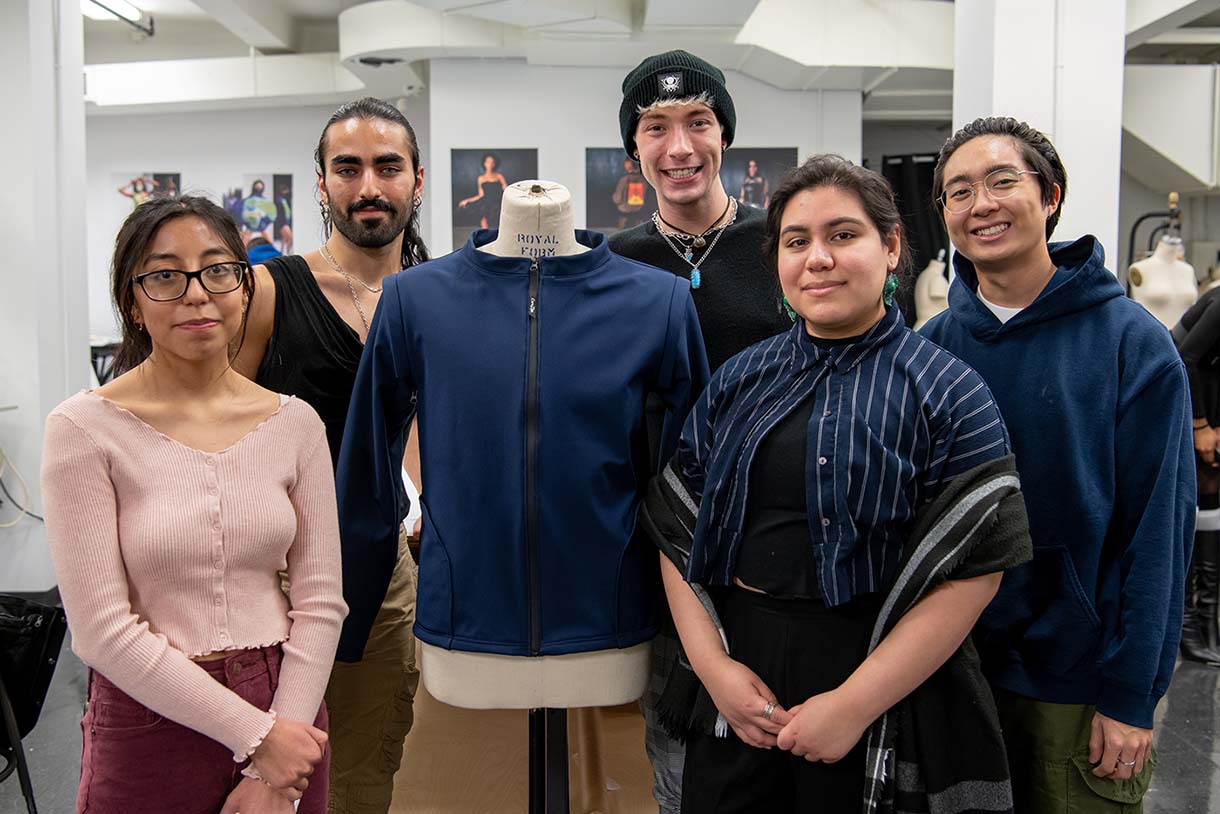 Columbia students collaborate with Joe & Bella to develop innovative apparel for older adults experiencing physical and cognitive changes, with the company selecting one piece to produce and sell on their website.
During the Fall semester, Columbia College Chicago Fashion Studies students were challenged with a task: To develop prototypes and produce final pieces of adaptive apparel for Joe & Bella — a fashion-forward adaptive apparel brand for older adults. At semester's end, Joe & Bella's leadership team would select one of three pieces — each created and presented by a student team of designers — to produce and sell on their website. As a bonus, the company offered to generously contribute a portion of the sales to Columbia's Fashion Studies department. 
In mid-December that decision day came, and Joe & Bella chose a versatile two-piece blouse to manufacture and sell. This decision proved exceptionally tough as the two other student-created garments — pants and a jacket — also had innovative and stylish features to meet the needs of older adults who are experiencing age-related physical and cognitive changes.
The project began early Fall, when the leadership team at Joe & Bella – which included Jimmy Zollo, co-founder and CEO, and Ben Graham, vice president of partnerships and brand development — connected with instructor Reyes Witt and her Design Solutions for Fashion class. Students were tasked with understanding consumer and segment research, patternmaking, and sourcing appropriate fabric and accessories to create their prototypes and produce final pieces of adaptive apparel that would fit with the rest of Joe & Bella's apparel line.  
"This collaboration between Joe & Bella and our students emphasized problem solutions. The students became engineers first and designers second," Witt says. "The product development process was thoughtful and required much research for seniors with mobility issues. Each of our three groups focused on innovation and style while learning 3D design in Browzwear to help troubleshoot technical issues." 
With guidance from the leadership team at Joe & Bella and Witt, the students created a woman's blouse/poncho set with side zippers allowing easy dressing; a unisex convertible jacket with deep pockets for cell phones and medications and removable sleeves; and men's sleepwear featuring strategically placed zippers and snaps. Joe & Bella representatives met with students both in-person and online several times throughout the semester, giving their feedback on everything from fabrics to locations of pockets and zippers.  
"We loved all three designs and really would have been happy choosing any of them as a winner," Graham says.
The Joe & Bell team admired the adaptive pants and the two zippers and sturdy waistband that allowed for one side of the pants to be pulled down while leaving the other up. And they commended the jacket for its fabric choice and pocket design. But in the end, Joe Bella went with the blouse that included a removable poncho and side zippers to allow for ease taking it on and off.
"… this piece is essentially two clothing items that can be mixed-and-matched with different colors and patterns," Graham says. "And we love that the base layer can be worn separately as a foundational piece of clothing in one's weekly rotation." 
The biggest win for students, though, was not which design Joe & Bella selected; it was about the experience itself and what the students took away from it.  
"The Joe & Bella design experience was beneficial to me in so many different ways," says junior Madison Chain. "I really got to dive in and research a whole different market and consumer that I have never worked with before, and it opened my eyes to how fashion does so much more than look good or just be wearable, but it also has the power to make lives easier." 
The story of this uniqe collaboration between Joe & Bella and Columbia College Chicago students caught the attention of local media. Check out their stories by clicking on the links below:
Recent News