Persistence Scholarships Support Student Success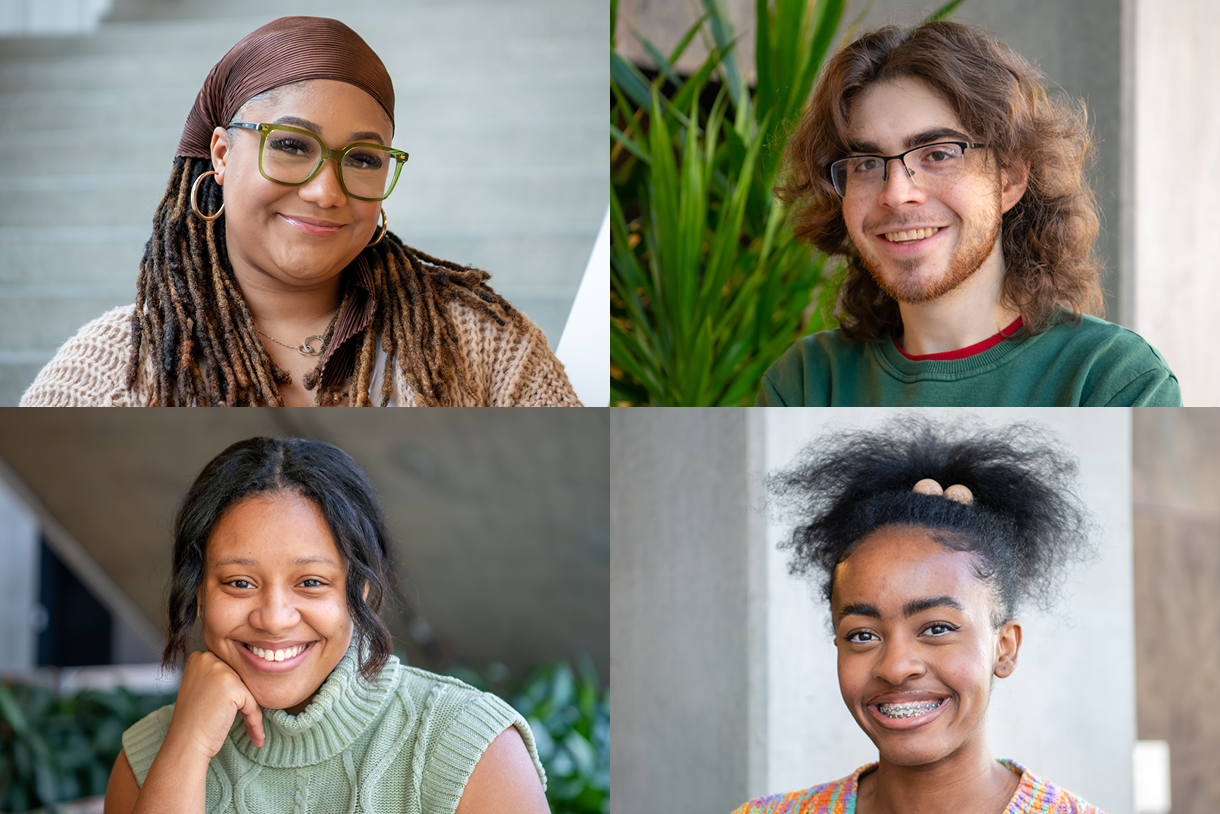 Funds raised by Columbia's annual Unleashed Gala — an immersive experience designed, curated, and driven by students — make a difference for students.
Paying for college – and staying in college – isn't easy. And when life throws curve balls, it becomes even harder.  
Just ask Columba College Chicago Senior Leah Tolliver, a current Cinema and Television Arts student who left college twice: First following a physically and financially debilitating car accident and then after the birth of her daughter, who she is raising as a single mother. 
"[It] was always the goal to get my degree. but life happened and I had other priorities and I had to kind of put school to the side," Tolliver says.  
Six years after entering her first college classroom, Tolliver continues to work toward that degree while raising her daughter. And that's thanks in part to the Columbia College Chicago's Persistence Scholarship she received last year. 
"[This scholarship] gave me so much relief," she says. "This has been a very long and bumpy road for me." 
Persistence Scholarships Help Reduce Stress and Promote Campus Connectivity 
Tolliver was among 92 Persistence Scholarship recipients in FY24. These scholarships, made possible by funds raised at the 2022 Unleashed Gala, make a vital difference for students at risk of leaving school prior to graduation. Last year's Gala — an immersive experience designed, curated, and driven by Columbia students — raised more than $750,000. 

By alleviating the financial burdens of students juggling the demands of school with jobs and family obligations, scholarships can significantly reduce stress and promote campus connectivity, two important factors in keeping students in the classroom.  
How Scholarships Made a Difference 
Senior Aliayanna Francois, a Social Media and Digital Strategy major, understands stress. She's been working multiple jobs over the past two years to supplement her financial aid. But when her mother moved to New York for a job, Francois lost some of her state assistance and unexpectedly faced a tough choice: taking out a huge loan or leaving school to earn and save more money. 
Receiving a Persistence Scholarship meant that Francois, who will speak at the Unleashed Gala, could remain debt free and stay in the classroom. 
"Right now, I'm still working to pay rent and do all those things, but I don't have the stress of having to work to pay off a huge loan," she says. "I think it's very important that these scholarships are offered because they really do take a weight off some students … it helps just take off that pressure and stress of having to work to pay for college." 
Senior Bryce Hamel understands that financial pressure and the tough decisions and missed opportunities that often come with it.  
Last year, Hamel, now a Senior, paid for school by working for the United Postal Service (UPS) and living rent free at home in the southwest suburbs. But the distance from campus and the grueling job came with their own costs: Limited time to develop collaborative relationships with fellow students, seize opportunities to work on film student projects, and participate in extracurricular activities. 
"I had to leave earlier just to make the train so I could make it on time back and then go to work on time," he recalls.  
The Persistence Scholarship changed that for Hamel. Today, he lives closer to campus and works at Columbia's library. Gone are the days of catching Metra trains that run only once an hour and the exhausting work of hauling heavy boxes. Now, the Cinema and Television Arts student has the time to participate in the Anime Club and serve in a leadership role as well as build relationships with fellow student filmmakers and build-up his portfolio by working on student projects. 
"Now I can be like, 'Hey, I do editing.  Hey, I do camera work" and send that out to people that need to get their projects done now that I have more time," he says. 
After attending community college for two years, Senior Naomi Vieux, a Marketing major, wasn't prepared for the costs of a four-year college but saw the opportunities Columbia could provide her. The transfer student relied on her innate resourcefulness to pull together money to make Columbia a reality with jobs, financial aid, and scholarships but she still faced a financial gap. Her Persistence Scholarship helped bridge that gap. And if she remains on track, she'll be the first in her family to graduate from college.  
Leah Tolliver, Aliayanna Francois, Bryce Hamel, and Naomi Vieux are just a handful of Persistence Scholarship recipients. Their stories, though, reflect the challenges many students face, and the impact scholarships have in helping students realize their graduation goals and pursuing their creative careers.  
"To actually be able to say that I've finished, and I got my degree is going to mean the world to me," Tolliver says. "It's going to open so many doors for me."