Student Center: This Time It's Different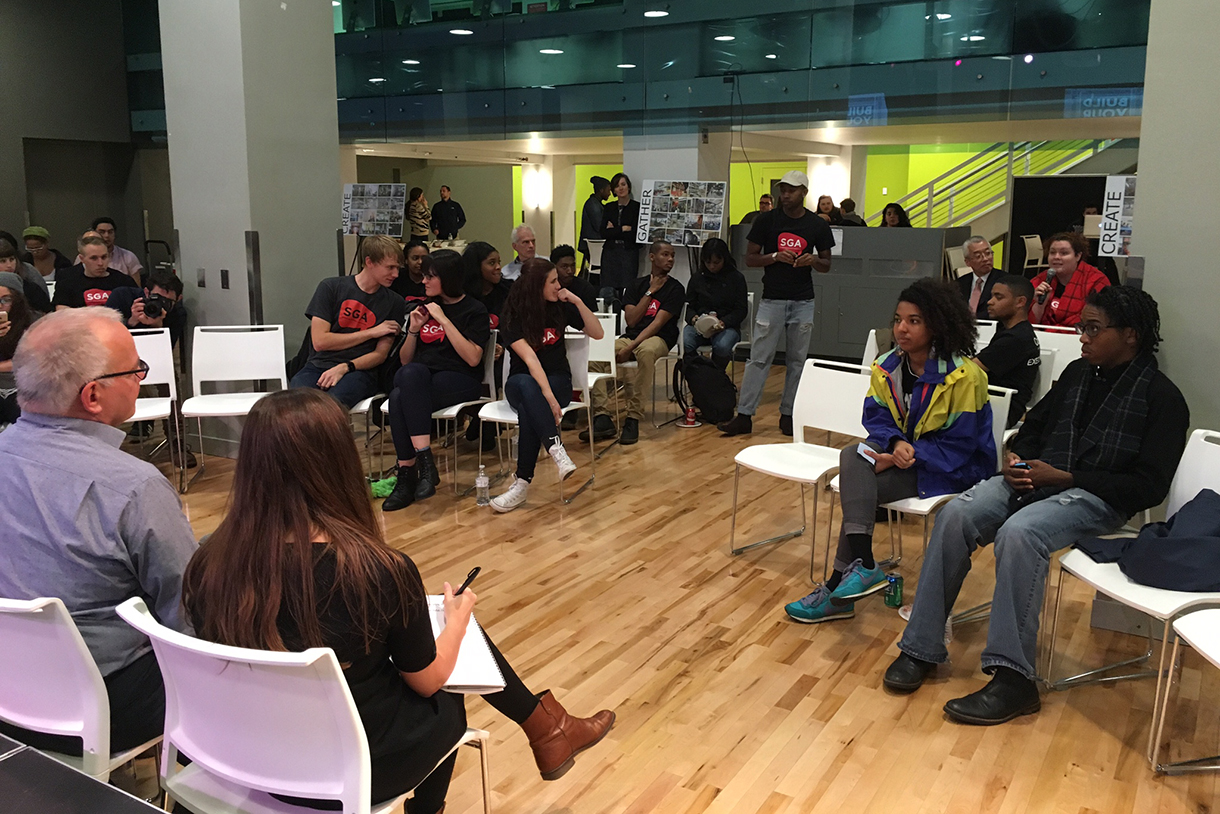 Student Center enters historic programming phase and draws on wide community of campus voices.
Plans for the new Student Center are fully underway as Columbia College Chicago continues its nine-week "programming" phase. This phase includes the various "Dream Out Loud" sessions that have occurred across campus, where many of the initial ideas for the Center were generated, and will culminate in a final, detailed program book with cost model by the end of January 2016. 
Embracing inclusion and participation as central tenets to the development process, the college has partnered with architecture and design firm Solomon Cordwell Buenz (SCB) to hold idea sessions open to various members of the student body, faculty and staff. SCB also interviewed area-specific user groups including department chairs, administrative services, student groups, food personnel and other representatives determined by President Kwang-Wu Kim and the Student Center Advisory Group. More than 25 different Student Center programming meetings have been held so far.
"The thing that excites me most is the interdisciplinary nature of the approach and the truly and wonderfully student-centered focus. It's just incredible," said Kari Sommers, Student Life associate dean and member of the Student Center Advisory Group. 
The programming phase also makes real, for the first time, the development of a long called-for large-scale, dedicated student space after more than a decade of advocacy by students and supporters. With widespread support and appeal, the idea for the Center was bolstered by the Strategic Plan, allowing for substantial planning and full-scale commitment by the college to ensure its development. When the Board of Trustees approved the proposal for the Center, next steps were swift and highly fruitful. 
"The Board of Trustees really embraced this because this has been a conversation for a long time here, and it has never advanced all the way through," said President Kim. "This time it's different."
A Student Center Advisory Group was also formed, which includes: Tim Cozzens, chair of design; Kari Sommers, associate dean, Student Life ; Leo Selvaggio, Workroom & Exhibition coordinator; Grayson Wambach, Facilities & Events coordinator; Kimberly Weatherly, executive eirector, Multicultural Affairs; Mel Potter, associate professor, Art & Art History, Papermaker's Garden; John Kavouris, associate vice president, Facilities & Operations; Miriam Smith, executive director, Alumni Relations; Chris Kerr, director of operations, Fabrications Lab; Stephen Chaney, president-elect, International Student Organization, first-year student; Malik Woolfork, vice president, Black Student Union; Linda Martin, orientation leader, commuter student, Student Government Association executive board member; and Lex Lawson, coordinator, LGBTQ Culture and Community.
Stephen Chaney, president of the International Student Organization and the first-year student representative for the Advisory Group, says students are excited about having a common hub to see event postings, accessing food outside of the University Center's offerings and interacting with other students regardless of their major or housing. 
SCB compiled information from the "Dream Out Loud" sessions into a preliminary program preview and presented their findings to President Kim, Chairman of the Board Dick Kiphart and the Student Center Advisory Group on Dec. 10. This preliminary program will continue to be reviewed by President Kim, the Advisory Group and original user groups to identify and evaluate potential usages and the possibility of a multi-purposed, reconfigurable shared space until the building's programming is finalized.
When asked if there were any major changes to his vision of the Student Center after the "Dream Out Loud" sessions, President Kim said he was no longer convinced that the new building should be an all-in-one shop for Student Services, as students made it clear they wanted the space to be dedicated to programming as much as possible. 
"In a school with many needs, this was a real top priority for students," said President Kim. "They have said to me since I've been here that they feel there is a disparity between the language of collaboration and the curricular reality."
The guiding principles for the preliminary program preview include: 
A campus hub designed specifically to meet the needs of the student body of Columbia College Chicago
A place of welcome that fosters a sense of belonging and safety
A place that provides a balance between reserved group activities and informal gathering
A place that allows, supports and celebrates a variety of personality types and social needs
A place that contributes to a person achieving their full potential physically, mentally and academically
An assortment of flexible spaces that promote inquisition, experimentation and the manifestation of ideas
The SCB team met with the following student, faculty and staff groups from Nov. 16-20:
Office of Student Success
Student Programming Board
Department of Exhibition and Performance Spaces
Office of Advising
Development and Alumni Relations
Portfolio Center
Build Your Own Student Center Forum
Dean's Councils, Department Chairs, Association Chairs
Student Counseling and Wellness Team
Latino Alliance Student Organization
Black Student Union
Facilities, Engineering and Security
Graduate Student Ambassadors
Student Council Organization
Common Ground/LGBTQA Student Leadership
Library
Columbia Renegades/Student Fitness & Recreation
Faculty Senate Executive Committee
International Student Organization and Asian Student Organization 
SCB expects to continue this review process as they finalize the program book and cost model for major spaces within the new Student Center, which will be completed at the end of January.