ASL Turns 25
In its 25th year, Columbia's American Sign Language (ASL) Department continues to reflect the evolution of Deaf culture.
"Part of Columbia's mission is about communication and community...we facilitate communication and mediate our culture—Deaf culture.
When a video of a sign language interpreter goes viral, it isn't always a good thing, especially for the Deaf community. Viral videos show signers incorrectly interpreting at two different events: Nelson Mandela's 2013 memorial and a press conference in the wake of Hurricane Irma. Other times, a video goes mainstream because the interpreter shows the act—and art—of interpreting onstage, even outshining the hip-hop artist they are signing for.
Either way, these are "teachable moments," says ASL Department Chair Peter Cook, who was part of the first faculty cohort 25 years ago. "These things can bring awareness of the Deaf community to the mainstream, and it shows the need for qualified interpreters."
Cook has a knack for seeing opportunity where others might not, especially when it comes to ASL as a locus for language formation. He had an early epiphany about the ways ASL can communicate metaphor during Allen Ginsberg's reading of "Howl," and he also conducted a national contest to invent a sign for the word "poverty."
The ASL program began a few years after Deaf President Now (DPN), a watershed moment for Deaf awareness and advocacy. In 1988, students at Gallaudet University successfully shut down the school in protest of its decision to not elect the school's first Deaf president. Two years later, the Americans with Disabilities Act was enacted. More Deaf professionals entered the workforce, generating the need for more qualified interpreters.
In 1993, the Interpreting Training Program became part of Columbia's English Department after it was proposed by Michael Fryzlewicz, a professional interpreter working at Columbia at the time. The demand was high as there were no interpreting programs in Chicago and no four-year programs in Illinois. The program grew quickly in its first few years, evolving into its own department. With the inclusion of Deaf Studies as a major in 2014, it was renamed the ASL Department.
Now, the department has approximately 137 students and offers Columbia-specific courses such as Musical Interpretation, Theatre Interpretation, Deaf Theatre Production, ASL Literature, Visual Methodology, and Deaf Representation in the Media. "It's why being at Columbia is so ideal. With our collaborations with the creative arts, we hope that more people can take this knowledge and sensitivity into their work and help spread awareness," says Cook.

The uniqueness of the program doesn't stop there. The department only hires Deaf instructors to teach their ASL courses. The impact is twofold: it empowers the Deaf community while creating a truly immersive experience in language. Cook recounts that many students are often taken aback on the first day of class. "We jump right in to the signing environment."
Students are prepared to be generalists able to enter various fields: professional, academic, medical, or creative. Unique to Columbia, each student is mentored in their final year by a professional interpreter, many of whom are alumni, before taking the Illinois State licensure exams.
"The more I learn about the ASL Department at Columbia, the more excited I am to tell other people about it," says Steven Corey, dean of the School of Liberal Arts and Sciences. "I am particularly drawn to the ways that faculty integrate the classroom experience, their own scholarly and creative interests, and daily interaction with the Deaf and Hard of Hearing community in Chicago."
"Part of Columbia's mission is about communication and community and that's where ASL fits in," says Cook. "We facilitate communication and mediate our culture—Deaf culture."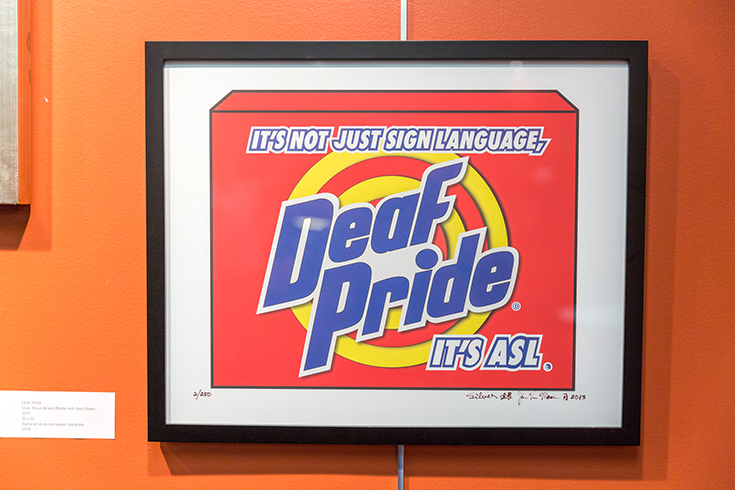 Original artwork by ASL Associate Professor Jim Van Manen. Photo: Phil Dembinski '08