Storytelling and Curiosity at the Faculty Showcase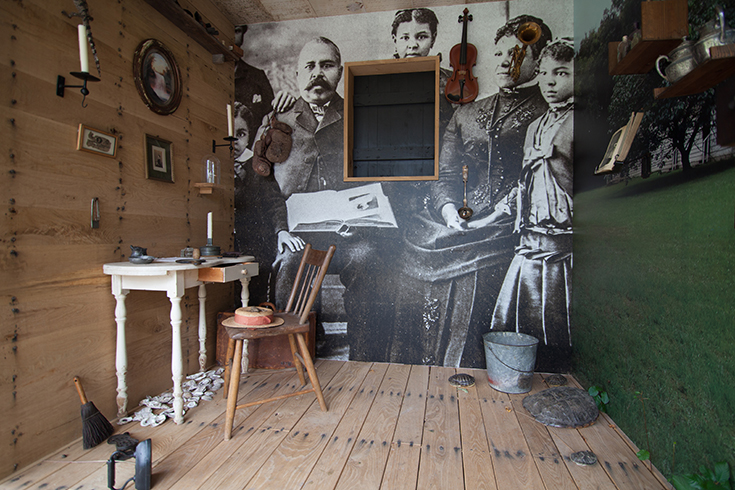 A preview of Tania Richard's and Fo Wilson's upcoming presentations at the April 26 Faculty Showcase.
Tania Richard, Cinema Art and Science
"First and foremost, I consider myself a storyteller," says Tania Richard, part-time Cinema Art and Science faculty member. Richard studied acting in college but found herself interested in writing and directing as well. "For awhile I was switching hats and focused on writing and not acting." Richard was teaching an Acting and Directing Workshop, a pre-requisite for Directing students who need to learn the language and craft of acting, when she had an important question.
"What are you doing outside of class?" she asked her students. "What are you creating?"
After Richard posed these questions, she immediately asked them of herself. The class was discussing two articles in class that day: one on actor and director Mark Duplass' advice to filmmakers to "Make a three dollar film every weekend," the other outlining how writer and director Sean Baker shot the 2016 film Tangerine on an iPhone.
"I used those two articles to say: No excuses. If you have a story, get it on film," says Richard. "I suddenly realized I was saying it to myself." Richard made a pledge to herself and her students that by the end of the semester she'd have the first episode of a web series. That weekend, she shot the pilot for Mom in Real Life.
Tania Richard in 'Cupcake' from season two of Mom in Real Life.
The web series is now in its second season, and Richard has used part-time faculty development grants to hire a director of photography and fill out her crew. She'll screen episodes during the upcoming Faculty Showcase, and will speak on creating original content. "Essentially it's all about the story. We can't be waiting around for other people to do it for us, we need to do it ourselves."
Fo Wilson, Art and Art History
In Eliza's Peculiar Cabinet of Curiosities – a full-scale structure modeled after a slave cabin – Art and Art History associate professor Fo Wilson tells the story of a fictional character, Eliza, through a collection of objects, furnishings, artifacts, and other media. The cabin, a semi-permanent installation that debuted last summer at the Lynden Sculpture Garden in Milwaukee, received funding through a faculty development grant for the exhibition catalogue and will be the subject of Wilson's upcoming Faculty Showcase presentation. The work, closed for the winter, will reopen this spring and continue its residency at the Lynden Sculpture Garden for the next three to five years.
Fo Wilson's Eliza's Peculiar Cabinet of Curiosities. Photo courtesy of the artist. 
According to Wilson, Eliza's Peculiar Cabinet of Curiosities imagines what a 19th-century woman of African descent might have collected, catalogued and stowed in her living quarters. The installation asks the questions: What did she find curious about the objects and culture of her European captors? Southern plantation life? The natural world around her?
Wilson, who is trained in furniture design, art criticism, theory and history, used the vernacular architecture of the Southern slave cabin as wunderkammer – or cabinet of curiosities – to explore these questions. The fictional Eliza not only assumes the role of collector, anthropologist and naturalist; as curator of her wunderkammer she asserts her right to creative and artistic forms of social commentary about her time. Eliza is given narrative control through Wilson in choosing what and how the character's story is told. The installation turns the tables on the Eurocentric gaze, privileging the Black Imagination as a mechanism of survival and resistance.
Fo Wilson's Eliza's Peculiar Cabinet of Curiosities. Photo courtesy of the artist. 
Wilson wants her colleagues to get a sense of the different ways Columbia thought leaders are working. "The new Faculty Showcase is a great way for the Columbia community to be more informed about what faculty are doing, as well as the type of work that is pushing the boundaries of our making practices forward."
Faculty Showcase
Wednesday, April 26
5–6:30 p.m.
Ferguson Lecture Hall
600 S. Michigan Ave.