Tomas Videla, MFA '19, on Building a Life from His Love of Music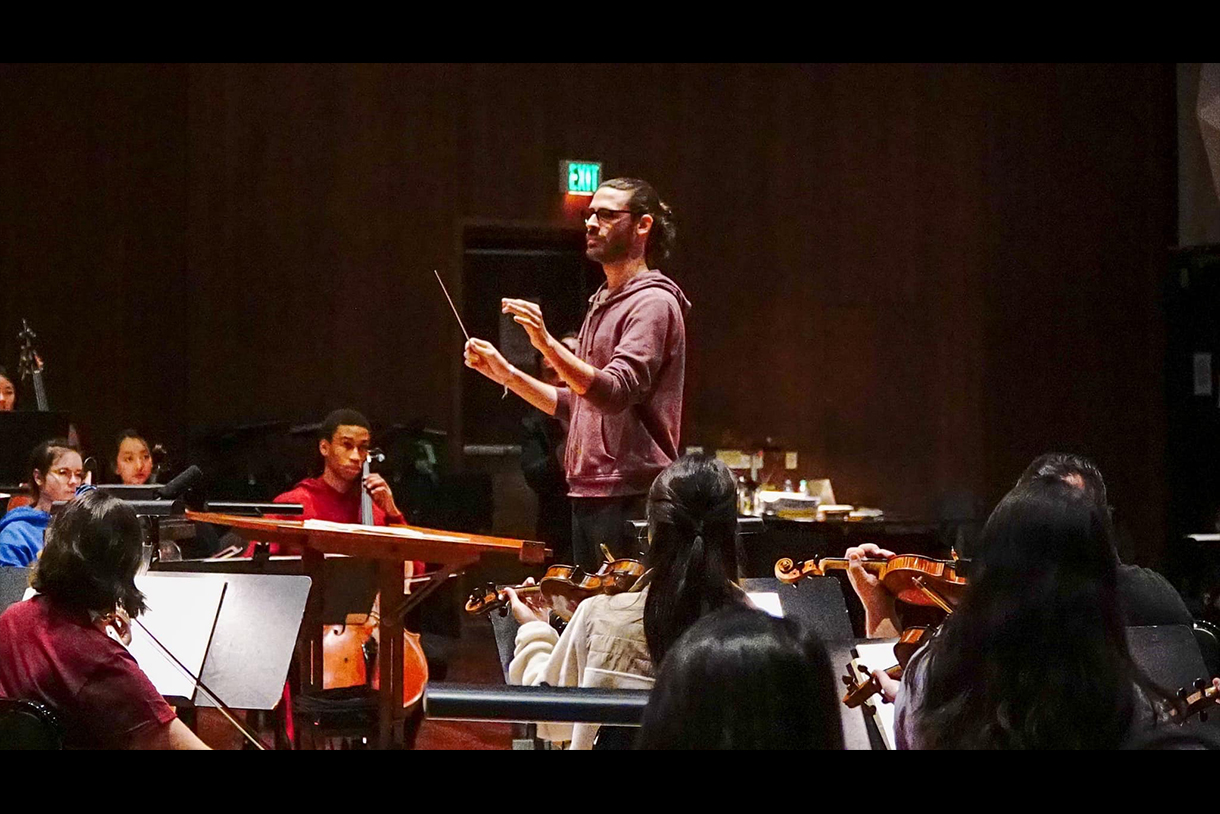 For Tomas Videla, music was always a part of his life, but he never imagined that he'd be scoring the soundtrack for the upcoming HBO documentary about Tiger Woods.
Today, Videla remembers, "I always knew I wanted to be a musician, or at least do something with music." Videla grew up playing guitar, listening to Argentine folk music with his father, watching his brother practice the piano, and in awe of his uncle, composer and pianist Nico Posse. Then, when he was about 9 or 10, two key things happened. The first was that he discovered The Beatles. Second, a family friend gave him a big book of Beatles sheet music. It was the beginning of something big. As Videla says, "I started to look for my favorite Beatles songs and play them on the piano—that's how I learned to read sheet music. And slowly, I started to play less guitar and more piano, until it became my main instrument."
Still, Videla assumed that most musicians made their living and spent most of their time playing in bands. When he was a little older a simple trip to the mall changed everything. He remembers being with his mother and grandmother and seeing a CD of the soundtrack for Pirates of the Caribbean. Remembering it now, he says, "For some reason it caught my eye and I decided to buy it. When I got home and played it, I remember feeling my musical world changing. And I said, 'This is exactly what I want to do.'"
Videla began honing his craft, focusing on classical music, but always with an eye towards composition and film scoring. He says, "I think before studying proper film scoring one needs to study music by itself, that is: harmony, counterpoint, orchestration, history of music, piano, different styles, et cetera." By the time he got to college at Universidad Catolica Argentina (UCA), he was well-versed in many different styles and forms. Still, he knew that he wanted to continue in graduate school.
"There are several reasons why I chose Columbia for my graduate work," Videla says. "One big reason is the LA internship during the summer. This makes the MFA Music Composition for the Screen program different, and honestly better, from all the other film scoring programs." He also cites the leadership of Assistant Professor Kubilay Uner as a main reason the Columbia served him so well. "Kubi is doing an amazing job preparing all of the composers to live and work in LA—he makes the program feel as close to real life as possible," Videla notes.
After graduation, Columbia alum Jesi Nelson, MFA '15, introduced Videla to composer Michael Kramer. The introduction proved fruitful. Kramer brought Videla on to the Netflix/DreamWorks kids animated series, "Rhyme Time Town." "It was a door into the world of scoring for TV, which is a bit crazier than film, because you don't really stop. You have to write a lot of music in a short amount of time—you are writing for one episode, while doing revisions for the previous episode, while preparing to send ProTools sessions to the dubstage for another episode you scored weeks ago. It can get really messy. But it taught me a lot and really put my skills to the test."
For Videla, it also cemented the fact that he had found his path and was doing what he loved. Since graduating, he has taken on many more projects, including working with award-winning composer H. Scott Salinas on his HBO Sports and Jigsaw Productions documentary, Tiger, which is an exploration of the life of Tiger Woods. Part I of Tiger is set to be released Sunday, January 10th, 2021, and Part II premieres Sunday, January 17th. A trailer for the film can be seen here. There are more projects in the works for Videla as well.
Videla leaves us with a bit of advice for future film and television scorers. He says, "Be willing to step out of your comfort zone and be open to learning new things. That's when the most interesting things happen…And of course, always be ready to jump when someone tells you to. Kubi once told my class this phrase that really stuck with me: 'When someone tells you to jump, you want to be the person who asks, 'How high?'"
MEDIA INQUIRIES

Rhiannon Koehler
Communications Manager
rkoehler@colum.edu