Photography Alum, Guggenheim Fellow on How Columbia Helped Shape and Inform Her Practice
Sama Alshaibi talks about how her experiences at Columbia helped shape her career and the projects she has been most passionate about
When Sama Alshaibi '99 started in Columbia's Photography program, she wanted to become a war photographer stationed in the Middle East so that she could tell stories about the impact of war and Western policy on people's lives and the region.
"I lived in Iraq during the Iraq Iran War of the 1980s. When I moved to the United States as a teenager, it shocked me how little Americans knew about the United States' role in that war and the horrific conditions of the international embargo that was imposed on Iraq after it invaded Kuwait," says Alshaibi.
She didn't understand why these stories were not being covered by Western media, but her education at Columbia offered her some insight. "My education at Columbia provided me with a deep awareness of whose stories are told and how they will be framed. I was still very politically interested in the potential of images to tell such stories, but through a conceptual framework," she says. "I stayed in the photojournalism track with John H. White as my mentor, but my practice completely changed. I started using myself as the central protagonist and tried to find ways to speak about such conditions. It was the earliest hint of what my practice is today."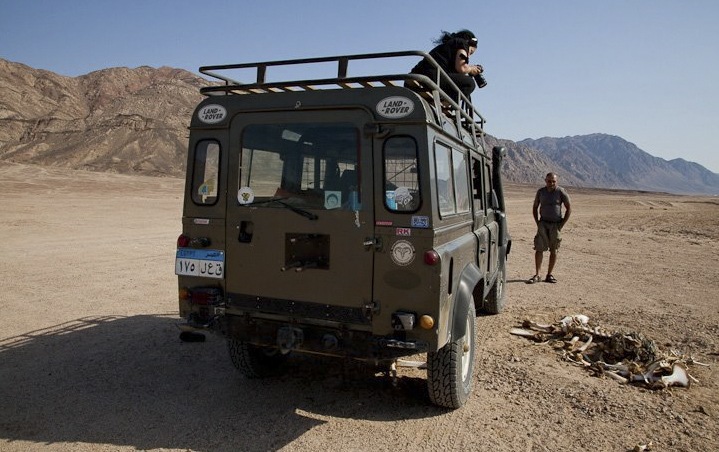 Sama Alshaibi working in the field in the Sinai, Egypt
Currently a Professor and Co-Chair of the Photography, Video, and Imaging program at the University of Arizona (Tucson) where she has been teaching for the last 15 years after receiving her MFA from the University of Colorado at Boulder, Sama remembers her time at Columbia fondly. "Columbia was an incredible program. Besides being extremely thorough in teaching the skills, various techniques, and the profession of being a photographer, it was a program that was far beyond its time in terms of decentering the white and Western art canon," she says.
She credits Columbia professors and instructors and the Photography Department's curriculum in general with not only helping her grow as an artist, but also helping her become an effective educator. Those teaching in the program recognized the importance of the work of photographers of diverse backgrounds far before the field did.
"They taught Western canonical artists, but they centered on artists of color, especially black artists. It was not until much later in life, when I started meeting artists who studied elsewhere and reviewing curriculum at other programs across the nation, that I realized how rare that used to be. We might take it for granted now, but I really credit Columbia for opening up a world in which I saw myself and others like me," says Alshaibi.
Sama Alshaibi, Water Bearer, photogravure, 2019
Sama also reflected on the fact that Columbia professors encouraged students to engage in the city and its arts and cultural institutions in order to bring the classroom to life. "We regularly met and worked throughout the city. Those are some of my best experiences in Chicago. The cohort of Photography students that I studied with are still my friends because of the many ways Columbia put together the students and the city."
Alshaibi's projects are her own personal practice where she is the artist from conception to execution. Some of the projects she is most proud of include "Silsila" (the Arabic word for "link")—a project that led her through the deserts of the Middle East and North Africa over several years to find stories on how identity and history are shared across the region.
 Sama Alshaibi, Silsila, Digital Archival Print, 2013
Her latest project, "The Cessation," is an installation work that centers on women's disappearance from public space and public life in Iraq during the aftermath of the US invasion, and in the rise of ISIL. "In particular, I'm working with the legal texts and conditions that along with war and sectarian violence, have produced a very different physical and social space for women in the country that I lived in as a child. Production will take place later this year," she says.
Sama Alshaibi, "The Cessation" (2019), neon, aluminum, acrylic, palm fronds, water, copper, terracotta, and sound (commissioned by Artpace San Antonio, photo courtesy Seale Photography Studios
Alshaibi has been the recipient of multiple awards, grants, and fellowships for her work including an 1885 Distinguished Scholar Award, an AFAC Visual Artist Grant, a First Prize Project Development Grant, a Fulbright Scholars Fellowship, and most recently, a John Simon Guggenheim Memorial Foundation Fellowship.
"I was actually a little stunned when I found out that I was selected because the subject implicates the US role in destabilizing life for Iraqis, and especially women and girls," says Sama. "We don't know who the Guggenheim jury members are, but I feel thankful that the person or persons who evaluated my proposal could see what is happening in Iraq today, in the aftermath of multiple wars, is a subject that we need to address here in the United States. I feel grateful, really. Right now, I'm in the research and planning phase for this next big project, which was selected for the Guggenheim Fellowship."
When asked what advice she would give Photography students or those interested in studying Photography she says "I look back to both my undergraduate and graduate years as the very best years of my life. I am thankful that I knew to appreciate it and to throw myself into that world—the friendships I developed, the books I was introduced to, the studio time, the critiques, the social life, and everything else that comes with taking the time to earn a degree in an academic and creative institution. Let yourself be pushed by your teachers and classmates. Stay open. Take risks. Discover the city. Volunteer to help your classmates on their projects and invite them to help you with yours. Don't stop yourself from trying new things. Take anything you consider to be your limitation and make it your strength. Have fun."
MEDIA INQUIRIES

Daisy Franco
Communications Manager
dfranco@colum.edu