Columbia Students Shoot Fashion Editorial at the Hilton Hotel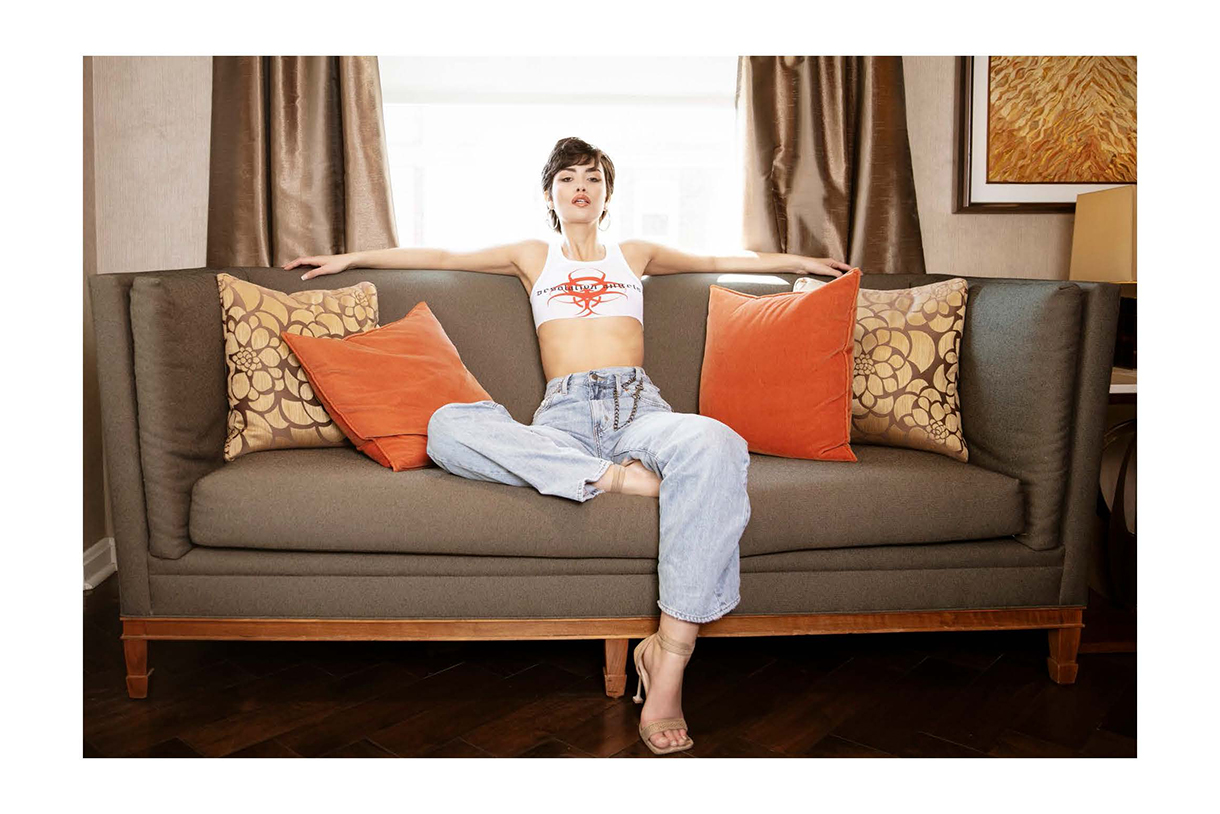 Photography students worked with ONE Management Modeling on fashion editorial shoot with the interior of the Hilton Chicago as a backdrop.
Creating a successful fashion editorial is a detailed process dependent on numerous factors—from the shoot location to the models, the outfits, and everything in between. Students in Adjunct Professor of Photography Michael Jarecki's course Fashion Photo: Location at Columbia College Chicago had the opportunity to have their hand in most of these details when they worked their cameras at a fashion shoot that took place at the Hilton Chicago this spring.
As a culminating project in Jarecki's course, students were able to choose their models from ONE Management Modeling agency, shopped for wardrobes, and created four to six outfits that they then photographed to create their fashion editorial spreads.
Hilton Chicago provided students with access to its Specialty Suites, including the famed Conrad Suite, to give students a hands-on opportunity to gain real-world, tailored knowledge and experience. Through this project, Hilton Chicago, Columbia College Chicago, and One Management Chicago came together to inspire and propel students' entrepreneurial spirit before their entrance into the workforce.
"We are thrilled to have contributed to this unique and innovative student project," says John Wells, Hilton Chicago General Manager. "It is our hope that the experiences we provide reflect our passion for the advancement of our vibrant Chicago community, and our commitment to dynamic teamwork and corporate social responsibility initiatives."
ONE Management Modeling; Photo by Rachel Harreld
"This project was designed to push the students in their final photoshoot to create an editorial spread you might see in publications like Vogue, or Harper's Bazaar. Working with Hilton Hotel we had a great location that offered versatility for each of the students and allowed them to push their ideas and create a story," says Jarecki.
Donovan Victoria, a graduating senior in Jarecki's class, felt intimidated initially, but then leaned into the experience. "It definitely seemed intimidating at first since it's such an iconic hotel here in the city as well as a high-end space," she says. "The expectations were high. But this was a chance to really put my instincts to the test and truly think on my feet.
"The best part for me was creating a concept that was true to my style but merging that with the elegance of the hotel. I wanted to make something that people would see and say 'oh yeah, Donovan shot that,'" she says. "Styling it on top of handling the art direction and shooting it definitely was a fun part for me."
"My main goal was to encourage the students to trust their instincts and stay positive during the project," says Jarecki. "During photoshoots a number of things often don't go to plan and it's important to work around those challenges."
ONE Management Modeling; Photo by Haoxin Lu
Graduating senior Stefanie Frontera notes the challenge of staying calm for the full four-hour shoot and how going into the shoot organized and prepared helped her overcome that challenge. "I had eight outfits and only limited time so it was a bit stressful and overwhelming but that is what comes with the job. In the end, it all worked out with the help of my classmates and making sure I stayed on schedule."
Stephanie expressed a deep appreciation for just how much she learned from the project. "It really made me realize how much I love fashion photography, the experience, and the community it comes with," she says. "This shoot truly has prepared me for the real world and for any shoot that comes my way!" 
Some of Jarecki's students were shooting in the same exact part of the Hilton making it necessary to carefully plan out the sessions. "We communicated constantly and made sure we knew each other's next moves. Both of our teams made sure to keep all our timing and set ups ready for the next shot so we could move seamlessly. It was almost like it was choreographed after a while," says Donovan.
Donovan emphasizes the importance of teamwork in a fashion photography shoot. "I definitely learned that your team is everything," she says. "You have to be open and communicate and really enjoy each other. I'm so thankful for all of them and their hard work and support." 
Jarecki was impressed with his students' work. "I think the students made some fantastic photographs. They were able to create a fashion editorial in a space that they normally would not have access to. They created strong fashion photographs that they can now use in their portfolios to show perspective clients."