Fashion Studies Alum Lillian Mooney '21 Stays True to Her Goals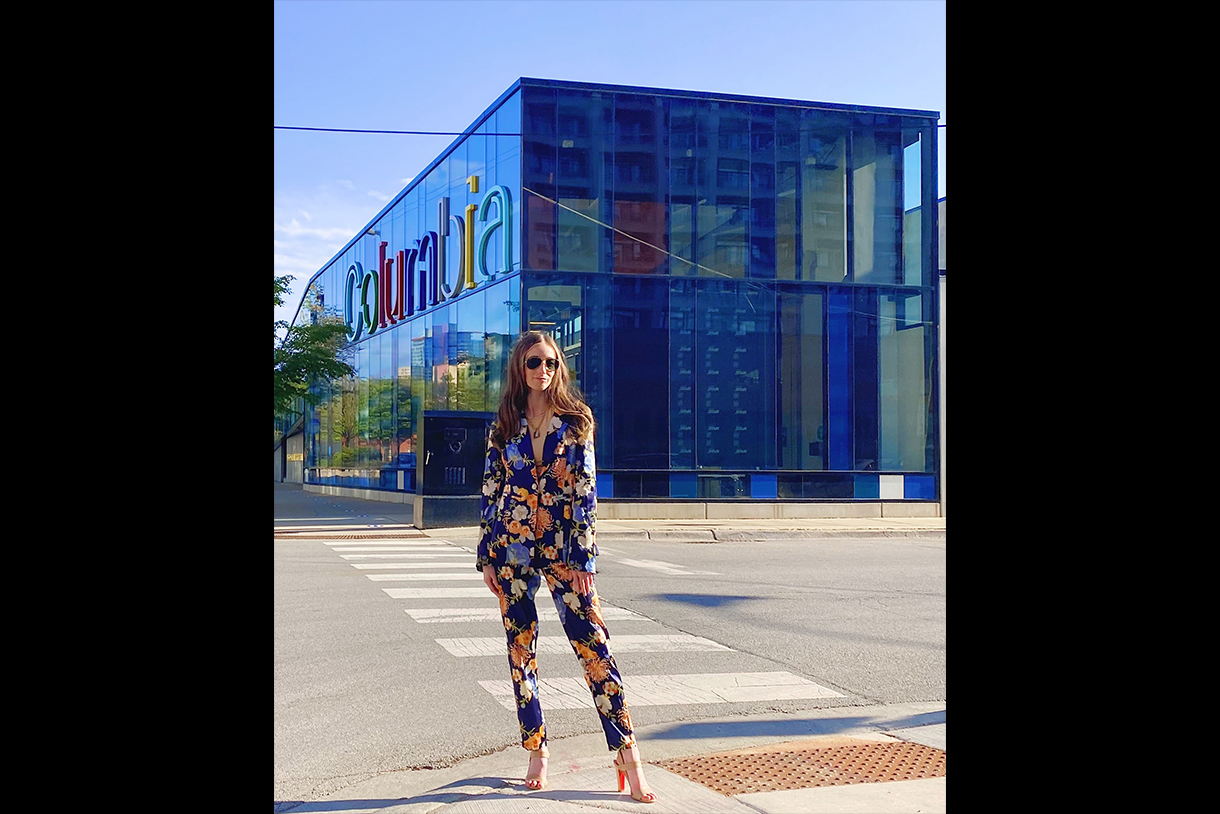 Now working for a luxury jeweler, Lillian Mooney describes her transformative experiences at Columbia and shares advice with students.
For Lillian Mooney BFA '21, being ahead of the curve in fashion is nothing new. Growing up in South Bend, Indiana, Mooney was regularly at the forefront of trends. By the time she was in high school, she had researched enough related to fashion design to know that she wanted to pursue a career in the field. She decided to enroll in the Illinois Institute of Art in Chicago for her AAS in Fashion/Apparel Design. It was during these first college years that she also discovered a new passion. "As I started college, I quickly grew to like the digital side of fashion, such as Adobe Illustrator, Photoshop, and InDesign, and that's where I began taking the interest of graphic design into my fashion career."
As a transfer student, Mooney knew that she was going to have to find a home with a four-year institution that was as dedicated as she was to fashion studies. "I chose to come here due to the vigorous fashion curriculum. Columbia turned a challenging decision into an easy choice," Mooney recalls.
Once at Columbia, Mooney found the faculty of the Fashion Studies department to be "positive and resourceful." One class that especially encouraged Mooney to push her boundaries was the fashion lab course, where Mooney learned how to use market research to inform industry leaders on a variety of topics. As a consultant for Cotton, Inc., during the course she "engaged in an iterative partnership with the brand management team, analyzed data, and generated story-driven insights and actionable recommendations in an extensive presentation to executive leadership." It was an experience, along with many others with faculty leaders, that proved to be transformative. Now, Mooney says, "Collectively, Fashion Studies faculty have genuinely pushed me to think in ways I had never imagined I could, and they have opened my eyes to so much in the fashion industry."
The community at the heart of Columbia College Chicago is in part what makes everything worth it. Mooney describes the environment in Fashion Studies as collaborative and generative rather than cut-throat. She says, "The fashion community at Columbia College Chicago is so unique. Something I enjoyed so dearly is how welcoming it is, not only when it comes to the faculty but also when it comes to the students...I always felt heard and that my needs were met or surpassed."
For Mooney, the key to success at Columbia was learning to recognize and overcome challenges while staying true to her goals and herself. Preparedness has proven to be key: "It is critical for companies always to stay ahead of the curve and to stay on top of it," Mooney says. This is a strategy that Mooney has also applied to her post-graduation job search to great success. In fact, Mooney has recently been hired for a new job with Lana Jewelry, a Chicago- based luxury jewelry company, where she will serve as a repair specialist. "I will be maintaining the repair process flow among all channels, manage multiple local manufacturer partnerships, perform detailed quality control procedures, and implement new strategies," she says.
When it comes to prospective students, Mooney has some advice: "Experience everything Columbia College Chicago has to offer, such as scholarship opportunities and one-of-a-kind courses that include industry experience. The time you have a Columbia goes by quickly, so truly absorb all the offered resources!"