Music Instructor G. Thomas Allen on Mastering the Craft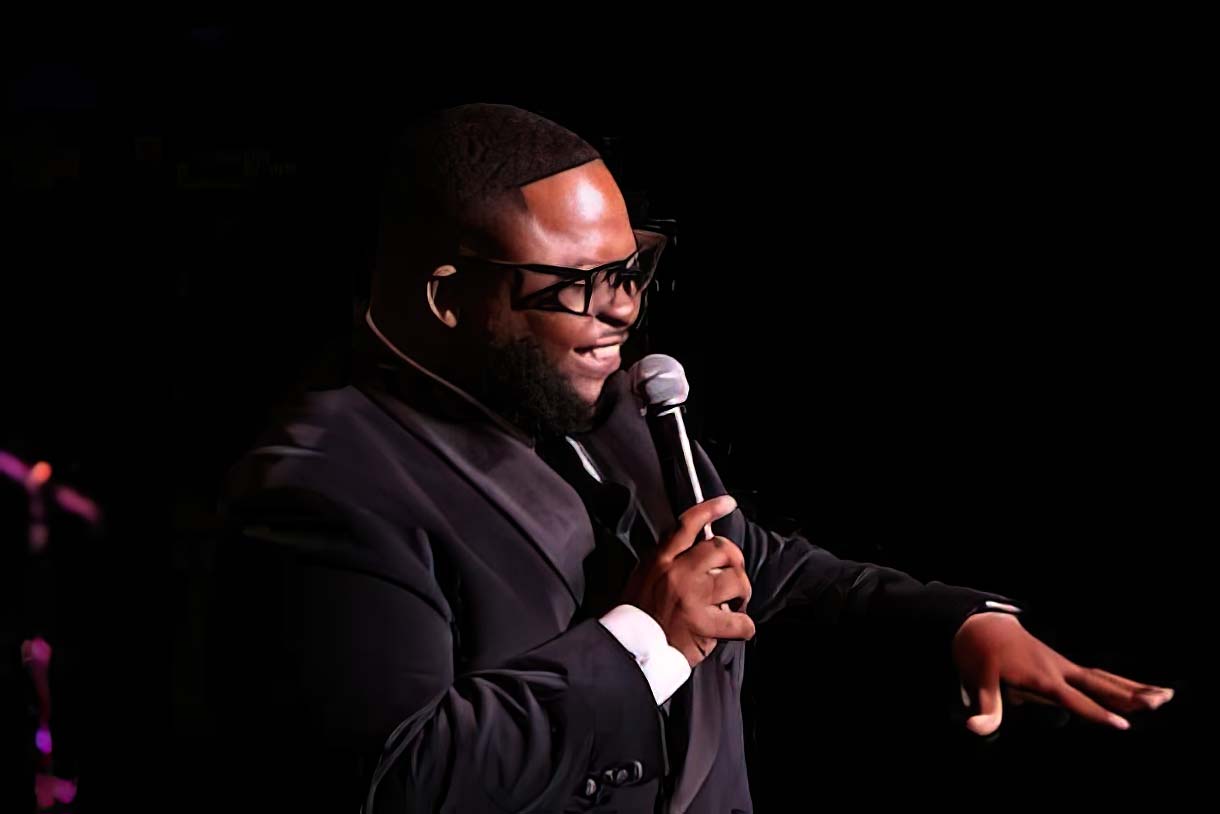 GRAMMY-nominated vocalist and Columbia instructor G. Thomas Allen builds student skill and fosters the growth of community.
For renowned musician and Columbia College Chicago Instructor G. Thomas Allen, a life of building connections through music began early. "My earliest memory comes from my Gospel roots," Allen says. "And the oratory traditions passed down in congregational singing, to which I always felt uplifted and a sense of hope." It was in that world of belief, togetherness, and faith that Allen learned what it meant to embrace his calling of being a singer. "From the hymn-like harmonies, soloing, improvisation elements, and learning how to blend through choral music, I knew singing was 'home.'"
Allen, who did not have access to a performing arts high school, was raised on the likes of Mahalia Jackson, Aretha Franklin, and Nat King Cole, all of whom, he says "have certainly shaped my understanding and appreciation for Black American Music." In his youth, he also attended summer programs like those at Duke University, Wolf Trap Studio, and Bright Leaf Music Workshop of America for additional training in vocal performance. His experiences there and his passion for Black American Music inspired Allen to attend a Historically Black College (HBCU) before attending University of California, Irvine, for his MFA.
Allen brings a unique perspective to his role as an instructor building both student skill and fostering the growth of community. "When I think of community, in the context of my background, I immediately think of culture and jazz originating in Black communities, from the West African diaspora, and fondly known for ties with cities like New Orleans. With the pairing of Western European harmonies, we see the community of Africa and Europe merge to what we know as America's music," Allen says. In teaching Applied Lessons and Vocal Workshops at Columbia, these are the traditions at play.
Allen's decision to teach at Columbia was easy: "Columbia College Chicago is in the ranks of Berklee College of Music and Belmont University," Allen notes. "I knew I wanted to be in an environment where contemporary music was the focus, and as a specialist in this area and given my love for Chicago, I couldn't see myself at another institution."
Beyond the classroom, Allen continues to engage in award-winning performances. He has been recently celebrated for his work on the GRAMMY-nominated album "Choirmaster," and in the 10th Annual Sarah Vaughn International Jazz Vocal Competition. Even given his tremendous success as a cross-genre experimental vocalist and composer, Allen remains humble. "Both are dreams realized and I'm grateful to share in such rich legacy," he says. "To even be in the same sentence as Sarah Vaughan is mind-blowing, and I'm still processing the win. Being the first male in history recognized this way speaks to the power of diversity and inclusion, even in the competition world, and it's my hope this will open the door to many others."
Allen shares his outlook with students. "I try to stress the importance of becoming a musician and really mastering your craft and understanding the application of music. Showing the longevity of someone like Tony Bennett or Patti Labelle and what it takes to have sustainability, in the industry, has helped to give students a different prospective; other than how many followers one might have on Instagram," he says. Allen, too, is no stranger to the work it takes to build a sustainable life in a competitive and fast-moving industry. Allen's recently released single, Cookie Jar, is a delightful preview of his next album, Reimagined Dreams, which will be released in the summer of 2022. He also looks forward to connecting with festivals including the Monterey Jazz Festival, the White Plains Jazz Festival, and the Baltimore Jazz Festival, among others.
Finally, he looks forward to encouraging more musicians to join the fold at Columbia. "I joined the vocal faculty of ChiArts Conservatory as the Jazz and Contemporary voice instructor and it's my hope to make a stronger connection for our recruitment efforts here at Columbia," Allen says. And for these students, and others, Allen has some advice: "Be unapologetically yourself, always be a student of the music, and show gratitude." As Allen's career already proves–that expansive outlook will take you everywhere.