Music Alum Performs With Beyoncé and Lizzo to Uplift Audiences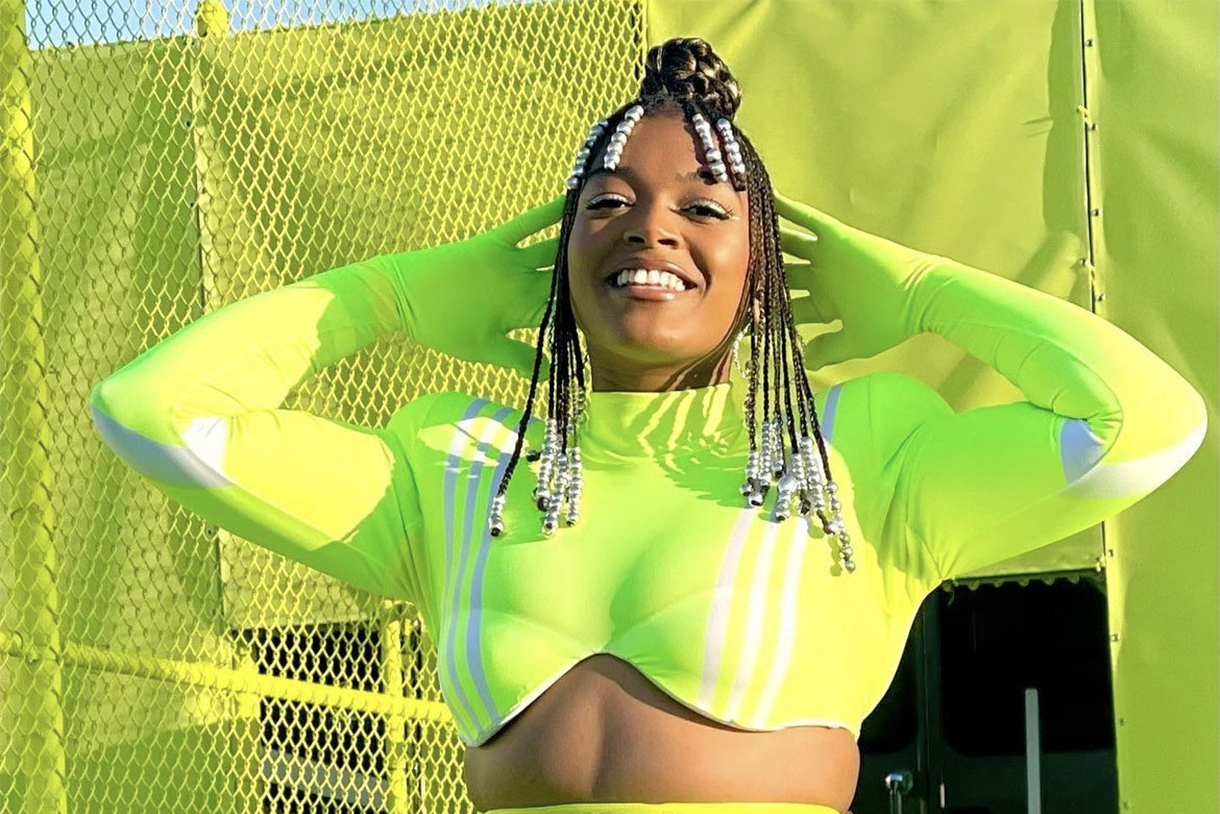 Columbia College Chicago Alum D'Zhari Bolden '17 describes her experiences working with two of music's biggest superstars and her passion for making music that makes people feel good.
Meeting superstars is exciting but performing with them at the GRAMMY awards and Oscars is something entirely different — it's downright mind blowing.  
But that's exactly what Music Alum D'Zhari Bolden '17 did when she joined Beyoncé in the opening number of the 2022 Academy Awards and, more recently, took the stage with Lizzo and other singers to share messages of body positivity at this year's GRAMMY Awards.  
Fans and critics celebrate these talented artists for their uplifting music, so it is no surprise that Bolden — a singer, songwriter, dancer, and actor — found her way to them. Because she, too, believes in the power of music and its ability to heal both the artist and the audience. It's what drives Bolden as a singer/songwriter and as a person.  
"We need positivity and genuine love to be spread," she says. "That's really my big mission with everything I do."  
Bolden's journey to the Oscars and GRAMMYS began in Chicago, where she was born and raised and where she earned her degree in Contemporary, Urban, and Popular Music from Columbia College Chicago.  
She chose Columbia because of its unique opportunities to write and perform her original music as well as perform with Columbia's jazz and gospel ensembles at Chicago venues, such as the Jazz Showcase, the Chicago Theater, Reggies Chicago, and the Blackstone.  
And something else about Columbia resonated with Bolden: The message that you could live what you love. 
"The energy at Columbia — this was me," Bolden recalls. "Columbia was where I needed to be." 
The payoffs of being at Columbia continued beyond graduation. She decided to leave Chicago just before releasing her first full project of original music and a music video and fulfill her life-long dream of pursuing a career in music and acting in LA.  
Not long after arriving in 2021, a friend and fellow Columbia alum helped open doors for Bolden by helping her earn a spot with Chicagoan Kanye West's Sunday Service gospel choir, a travelling and YouTube accessible showcase for gospel music.  
And after that, one thing just led to another. Two months after leaving the choir, Bolden bumped into another former choir member at an audition. An A-list celebrity was looking for singers, the friend told her. Was Bolden interested and available? If yes, the friend could help make the connections.  
Soon after, Bolden was on board to sing the Oscar-nominated song "Be Alive" with Beyoncé via a video that kicked off the Oscars in 2022. Working with the hardworking superstar impressed and inspired Bolden who had seen the darker side of the music industry in previous experiences.  
"I love how she treated everyone equally, whether you were a singer, dancer, or camera operator. She made everyone feel important and worthy and she constantly expressed gratitude," Bolden remembers. "It was incredible to watch the way that she works. She's very about her business, very involved in the creative process. She was very particular and very meticulous, but she was also very kind and humble." 
After that show, Bolden became more of a known entity. She received a direct referral to perform at the GRAMMY Awards with Lizzo, who Bolden found to be just as authentic and fun in person as she is in interviews and on the stage. Being part of Lizzo's all-black female choir for the performance of "Special" was especially meaningful to Bolden. 
"What I love about Lizzo is her overall message and her goal is all about pushing positivity," she says. "The message that we were putting out to the world reminded everyone that you're special and that you deserve to be here. You have a place; you have a purpose." 
Bolden feels that sense of purpose herself, as she gets ready to release a new song and video and continues to grow as an artist and person. Since being in LA she's taken acting classes, with her eye on musical theater, and has focused on honing her skills as an overall performer. And she continues to write her music – a fusion of R&B, soul, and jazz styles — which she describes as a "vessel of healing."  
Similar to the songs she performed with Lizzo and Beyoncé, Bolden's music lifts people up. 
"It's like soul candy," she says. "It makes you feel good."