SXSW: Columbia College Chicago Students Experience the Ultimate Field Trip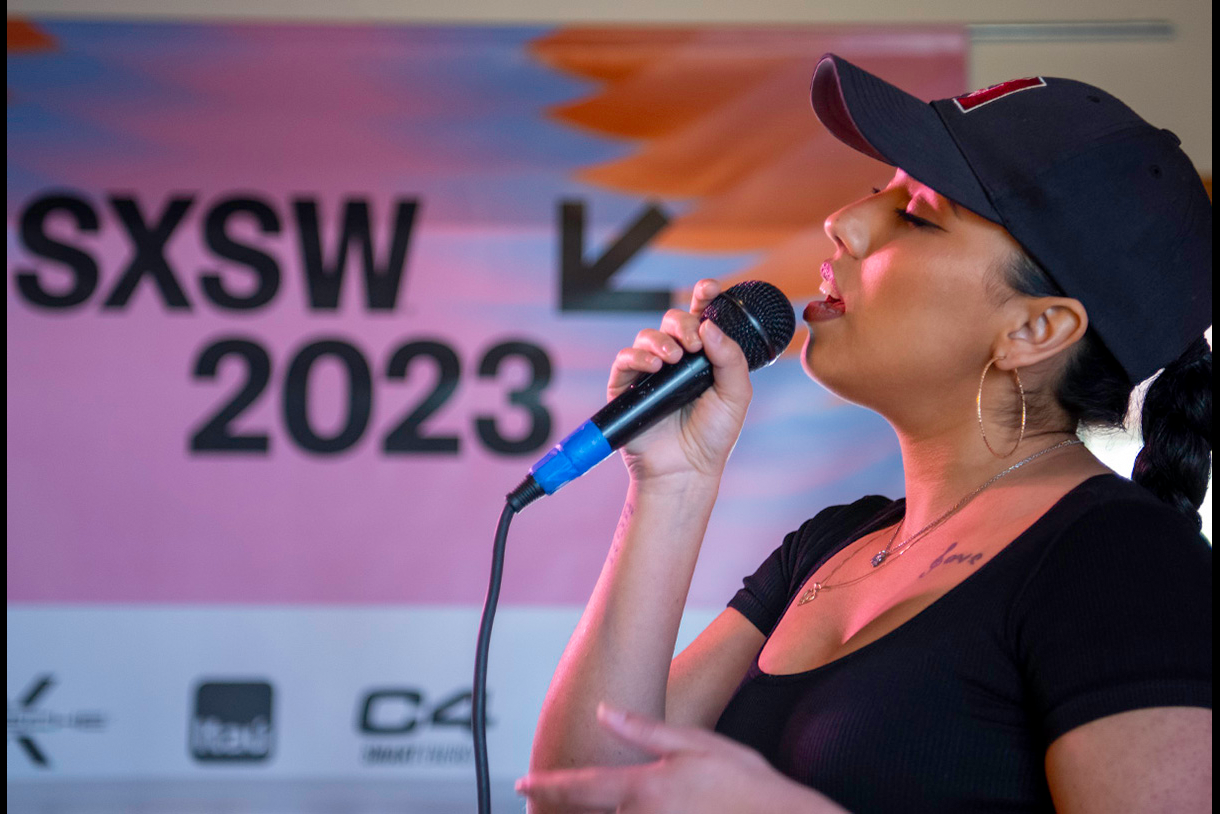 Columbia students go where tech, film, music, education, and culture converge and benefit from real-world experiences in the entertainment and media industries.
More than 100 Columbia College Chicago students taking Business and Entrepreneurship classes recently headed to South by Southwest (SXSW) in Austin, Texas, to join other creatives and learn by doing. It was the field trip of a lifetime.  
"This is a wonderful opportunity for students for some real hands-on learning," says Interim Chair of Business and Entrepreneurship Jerry Brindisi.  
Brindisi knows from experience; Columbia has been bringing students to SXSW since 2010.  
The 10-day event — which features a conference with panel discussions, lectures, and exhibits, as well as music and film/tv festivals — celebrates the convergence of tech, film, music, education, and culture.  
Dedicated to bringing creatives together to help them achieve their goals, SXSW and the trip to Austin offered Columbia students ideal opportunities to pursue classroom and professional objectives.  
As part of their coursework, faculty charged each of the seven classes at SXSW with a mission, including: 
Putting on an official SXSW music showcase  
Managing artists performing at the showcase 
Working with a music publishing company to scout talent 
Helping assess SXSW sponsor effectiveness  
Covering the event on social media from a student's perspective 
Meeting film producers, pitching student films, and attending screenings 
Presenting rebranding strategies for the Austin airport's parking and food services 
For these assignments, many students met with professionals in the entertainment and media industry, giving them chances to network and make important professional connections.  
"This feels like you're in the 'real world' doing post-college things," says Jackson Brandstadt, a senior studying Music Business 
The bonus of going to SXSW is the conference itself, Brindisi says. 
"It gives students the opportunity to attend panels, connect with professionals, go to mentor sessions, and really learn more about the business that they are aspiring to be a part of," he says. 
At this year's SXSW, Columbia students heard discussions on topics ranging from the role of memes in public discourse to expanding brand opportunities in film and television to the lives of women of color in the music industry.  
And one session even included a Columbia alum. Kristen Kelley '15, who majored in Cultural Studies, with a minor in Women's, Gender, and Sexuality Studies, at Columbia is currently the programs and communications manager at LGBT Tech. She moderated a panel she organized entitled "LGBTQ + DEI: Queer Representation in STEAM." 
Throughout it all, students were cognizant of the unique opportunity the Columbia trip to SXSW gave them. 
"I've not heard of any other college that comes to South by Southwest like this," says Brandstadt. "I think this is an experience … I can't get at many other places." 
In the coming weeks, Columbia will share more details and stories about Columbia College Chicago's experiences at SXSW. 
SXSW Highlight: Student-Run AEMMP Records Showcase  
The AEMMP Records showcase at SXSW (AEMMP Records Presents: Chicago Soundz) was put on by Columbia students and featured student and alum performers. It proved to be a Columbia SXSW highlight as students, alums, faculty, staff, and SXSW music lovers gathered for an afternoon of music, food, and community.  
Recent News