Trip to Ghana Emphasizes Importance of Music, Culture, and Connection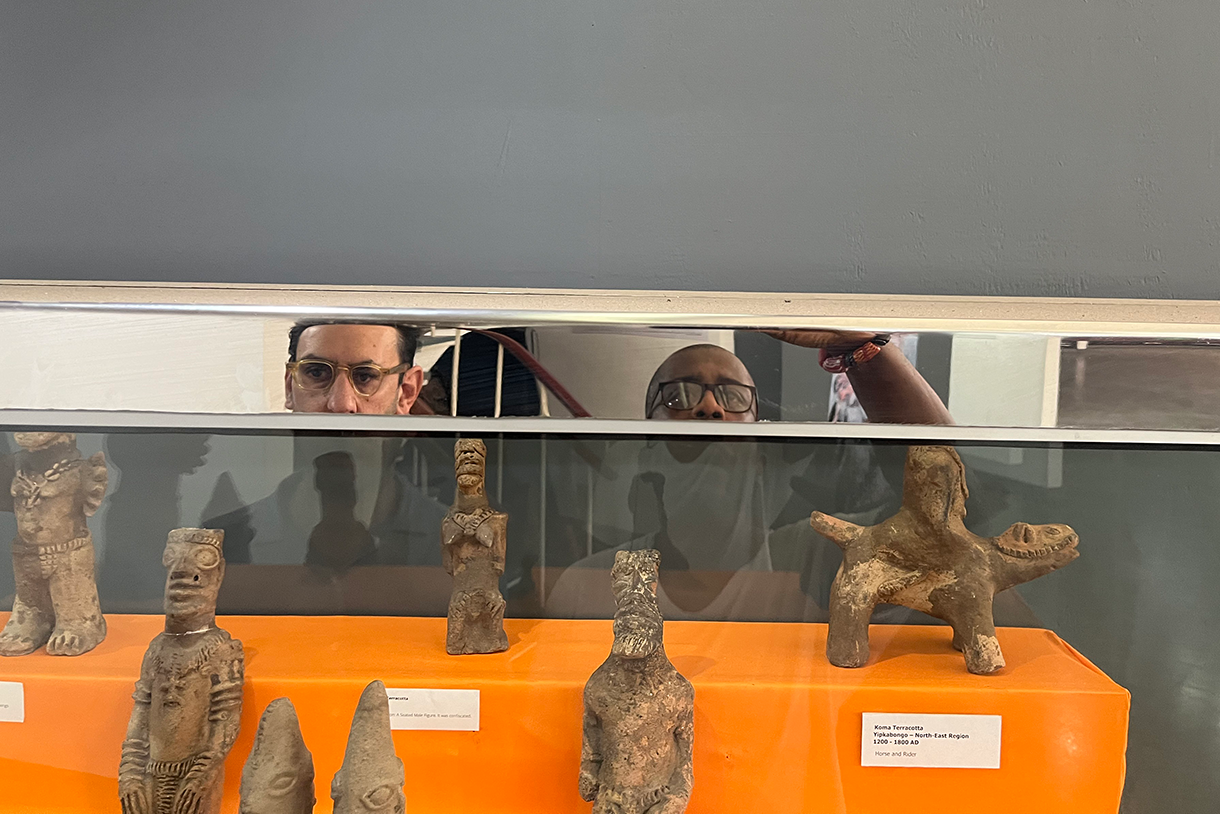 Associate Professors Robert Hanserd and Rami Gabriel visited Ghana as part of their collaborative research on culture, identity, and diaspora.
Associate Professor in History, Humanities, and Social Sciences (HHS)Robert Hanserd has been traveling to Ghana in West Africa for over two decades. This year, Hanserd brought along his friend and fellow Columbia HHSS Associate Professor of Psychology Rami Gabriel.  
Together, they explored the country, connected with locals, and furthered their collective research.  
Hanserd, a historian and Africanist, has been traveling to Ghana for the last 25 years, previously taking students for study abroad trips. He and Gabriel, a psychologist, both have research interests in the cross- Atlantic experience and the critical components of cultural diasporas. 
"We've been trying to find a way to disentangle some of these issues," Gabriel says. "Robert and I have been talking about identity in diaspora and emotions and culture at an academic level and as friends. I wanted to understand the situation in Ghana better, and Robert is a great guide, and he's aware of what a student or a scholar would want to learn from visiting Ghana ." 
In many ways this trip was an extension of the work the pair did in Fall 2022 with the Center for Black Music Research (CBMR). Through the help of a grant from Academic Diversity and Inclusion, the pair organized the Archives Alive series with CBMR.  
The series focused on archival photos, music, and documents by inviting distinguished guests from across disciplines to have conversations about the pieces. These materials and conversations inspired much of what they observed while in West Africa.  
"This is where we started to really get into this space," Gabriel says. "During this trip we collected video and photos and sounds, enlarging what we are looking to produce, which is more of an artistic statement of some of the things that we've learned, some things we're dealing with." 
Through the connections Hanserd has built over his years of visiting, the pair were able to hear an oral history from elders and connect with local musicians. Photos, videos, and recordings of these experiences can be used as archival materials and in research across disciplines. 
Working across disciplines both captures the emotions of the culture and history and helps provide context and get to the crux of complex issues like colonialism.  
"I think oftentimes when you start to talk about an African Europe, or even in African-Atlantic Exchange, you get caught in the muck of colonialism, imperialism, racism, all those kinds of things," Hanserd says. "I think what cross-discipline and interdisciplinary things do is open a better pathway to make sense of things." 
Some of the core aspects of the trip revolved around music. Gabriel, who is a musician and is a part of the Lebanese diaspora in America, says that it is one of the most lasting pieces of a culture.  
"When cultures move, the things that go last are cuisine and music," Gabriel says. "One of the reasons why music remains is because it stores our affective bonds. All of us in the diaspora have lost something. How do you make up for that loss? One of the ways is by communicating through art, through sound. That's a way of holding onto something." 
Hanserd and Gabriel took away more than just academic materials but also some memories that will last a lifetime. The pair found a home away from home at the resort One Africa, where they played alongside local musicians and youth.  
While Gabriel played the guitar and others sang and played drums, Hanserd found the feeling he craves in his trips to Ghana.  
"I got into a place where I felt very free," Hanserd says. "I felt a lot of stress kind of eased off me. That's why I go."  
In the future, Hanserd hopes to take students to Ghana once again, so they can have the same valuable experiences that keeps him coming back year after year.