2016 Commencement Speakers & Honorary Degree Recipients Announced
Jane Lynch, Diane Warren, Tracy K. Smith, Paul Garnes, and Carlos Tortolero
CHICAGO (March 29, 2016)—Columbia College Chicago is proud to announce a roster of Emmy, Grammy and Pulitzer Prize-winning artists and creative industry leaders as its 2016 commencement ceremony keynote speakers and honorary degree recipients. Each honoree will address students at one of five commencement ceremonies on May 14 and 15, 2016, at the Chicago Theatre. This year's honorary degree recipients are: Columbia College alum and film producer Paul Garnes (Middle of Nowhere, Selma, "Being Mary Jane," "Queen Sugar"); Emmy and Golden Globe Award-winning actress and former Chicagoan Jane Lynch (Hollywood Game Night, Glee); Songwriters Hall of Fame inductee and Grammy Award recipient Diane Warren ("Til It Happens To You," "Because You Loved Me," "I Don't Want to Miss a Thing"); Pulitzer Prize-winning author and poet Tracy K. Smith (Ordinary Light, Life on Mars); and Carlos Tortolero, founder and president of Chicago's National Museum of Mexican Art, the first Latino museum accredited by the American Alliance of Museums. More than 2,000 Columbia College graduate and undergraduate students are expected to graduate this year and attend the May commencement ceremonies.
"Our honorary degree recipients are not only acclaimed artists and established creative leaders in their own right—they represent a version of success that is meaningful to our student body," says Columbia College Chicago President and CEO Dr. Kwang-Wu Kim. "The diversity of experience and high level of artistic achievement among this year's honorees reflects the core mission of Columbia College Chicago, which is for our graduates to author the culture of their times. We look to the Class of 2016 to follow their lead with high aspirations as they begin their professional careers."
In order of commencement ceremony, Columbia College's 2016 keynote speakers and honorary degree recipients are:
TRACY K. SMITH – Honored at 10 a.m. on Saturday, May 14
Tracy K. Smith is the author of the critically acclaimed memoir Ordinary Light (Knopf, 2015), a finalist for the 2015 National Book Award in Nonfiction and selected as a Notable Book by the New York Times and Washington Post, as well as three books of poetry. Her most recent collection of poems, Life on Mars (Graywolf, 2011), won the 2012 Pulitzer Prize. The collection draws on sources as disparate as Arthur C. Clarke and David Bowie, and is in part an elegiac tribute to her late father, an engineer who worked on the Hubble Telescope. Duende (2007) won the 2006 James Laughlin Award from the Academy of American Poets and an Essence Literary Award. The Body's Question (2003) was the winner of the 2002 Cave Canem Poetry Prize. Smith was the recipient of a Rona Jaffe Writers Award in 2004 and a Whiting Award in 2005. In 2014 the Academy of American Poets awarded Smith with the Academy Fellowship, awarded to one poet each year to recognize distinguished poetic achievement. In 2015 she won the 16th annual Robert Creeley Award.
Smith's poems embody the lyrical, rhythmic quality of masters such as Federico Garcí­a Lorca. At times political, whimsical, and always meditative, they speak largely to the role of art and to the conception of what it means to be American, dealing with the "evolution and decline of the culture we belong to." Her work also explores the dichotomy between the ordered world and the irrationality of the self, the importance of submitting oneself willingly to the "ongoing conflict" of life and surviving nonetheless—or as in Smith's own words, "poetry is a way of stepping into the mess of experience."
After her undergraduate work at Harvard, Smith earned her MFA in Creative Writing at Columbia University, and was a Stegner Fellow in Poetry at Stanford University from 1997 to 1999. She is the Director of Princeton University's Creative Writing Program.
JANE LYNCH – Honored at 1:30 p.m. on Saturday, May 14
Actor Jane Lynch was raised on the south side of Chicago and cut her theatrical teeth in many church basements and assorted dumps and dives all over the Chicago-land area. She also is proud to have performed with The Second City and Steppenwolf Theatre. Lynch is the two-time Emmy winning host of Hollywood Game Night and an Emmy and Golden Globe winner for her portrayal of Sue Sylvester on Glee. Additional television credits include Party Down, Lovespring International, Two And A Half Men and The L Word. Lynch's film credits include The Three Stooges, The 40-Year-Old Virgin, Taladega Nights, Julie & Julia, A Mighty Wind and Best In Show. Mascots, Christopher Guest's next movie, will premiere on Netflix this summer. She made her Broadway debut in the 2013 production of Annie, and soon thereafter embarked on her own live concert tour, See Jane Sing. Her memoir Happy Accidents topped several national best-seller lists, including the New York Times and Los Angeles Times. Lynch currently resides in a Los Angeles canyon with two dogs, a cat and lots of trees and birds.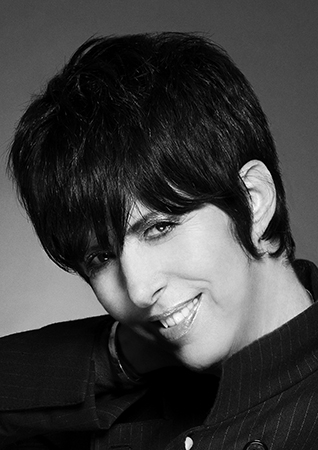 DIANE WARREN – Honored at 5 p.m. on Saturday, May 14
Diane Warren is one of the most continuously prolific and successful contemporary songwriters of our time. She is the sole owner of her publishing company Realsongs.
An eight-time Oscar® nominee and Grammy® Award winner, Warren's songs have been featured in more than 100 motion pictures, and she has written over 100 top ten Billboard songs. Her most recent Oscar® nomination is for the original song "Til It Happens To You" from the critically acclaimed documentary The Hunting Ground, with music and lyrics by Diane Warren and Lady Gaga and performed by Lady Gaga.
She was nominated for five Golden Globes and won for the powerful ballad "You Haven't Seen the Last of Me," performed by Cher in the movie Burlesque.
Diane has been nominated for 13 Grammys®, and received a Grammy® for the song "Because You Loved Me." She was inducted into the Songwriters Hall of Fame in 2001.
Diane wrote the song "I Was Here" for Beyoncé's record "4," which hit number one on the Billboard charts. The video for the song was filmed at the U.N. to launch World Humanitarian Day, and the song has reached over 1 billion people.
In addition, Diane wrote the original song "You Will" for Oprah Winfrey which serves as the anthem for the OWN network. The song is performed by Jennifer Hudson and Jennifer Nettles and debuted in March 2015.
Warren recently wrote the song "This Is For My Girls," which features vocal performances from Kelly Clarkson, Chloe & Halle, Missy Elliott, Jadagrace, Lea Michele, Janelle Monáe, Kelly Rowland and Zendaya. Sales from the single benefit charities supporting young women's education globally, including First Lady Michelle Obama's Let Girls Learn initiative.
Diane has worked with Whitney Houston, Lady Gaga, Beyoncé, Elton John, Cher, Faith Hill, Eric Clapton, Celine Dion, LeAnn Rimes, Mariah Carey, Barbra Streisand, Justin Bieber, Demi Lovato and Jennifer Hudson, just to name a few.
Diane, who is a vegetarian, is a major advocate for animals and the elderly.
PAUL GARNES (BA '96) – Honored at 12 p.m. on Sunday, May 15
Paul Garnes has served as producer, line producer and/or production manager on films and television series for Disney, Dreamworks, HBO, ABC, NBC, BET, Sony/Screen Gems, Magnolia Films, and Paramount Pictures. A graduate of Chicago's Columbia College, Garnes has worked as Vice President of Operations and Production for Academy Award winner Jamie Foxx's Foxx/King Productions and Head of Production for Simmons-Lathan Media Group.
In 2006, Garnes was recruited by Tyler Perry and Reuben Cannon to join the Tyler Perry Company where he served as Vice President and Executive in Charge of Production until 2009, overseeing the creation of its multi-million-dollar studio and backlot. In addition to daily operations, Garnes supervised over 250 episodes of broadcast television while at the studio. In 2011, he produced filmmaker Ava DuVernay's award-winning independent feature, Middle of Nowhere, which won Best Director honors at the 2012 Sundance Film Festival and the Independent Spirit Awards' John Cassavetes Award.
In 2014, Garnes was executive producer of the film Selma, a biopic directed by Ava DuVernay and distributed by Paramount Pictures, which chronicles a series of the three Selma marches led by Dr. Martin Luther King, Jr. supporting the 1965 Civil Rights Voting Act. Selma was nominated for the 2015 Academy Award for Best Picture, and won a 2015 Golden Globe and Academy Award for Best Original Song.
In addition, Garnes continued his work as producer on the final season of BET's hit series "The Game," and the current season of Viacom/BET's "Being Mary Jane." Currently teaming back with DuVernay and Winfrey he is producing the OWN/Warner Horizon series "Queen Sugar" that will air in the fall of 2016.
CARLOS TORTOLERO – Honored at 3:30 p.m. on Sunday, May 15
Carlos Tortolero is the Founder and President of the National Museum of Mexican Art (NMMA) in Chicago. The National Museum of Mexican Art is the first Latino museum accredited by the American Alliance of Museums. The Museum opened its doors in 1987.
The National Museum of Mexican Art has become a national model for its exhibits, performances, arts education programs, advocacy of cultural equity issues, and as a model for how museums need to change in today's society. Twenty exhibitions organized by the NMMA have traveled across the country and eight have traveled to Mexico. There are over 10,000 pieces in the Museum's permanent collection. The Museum is the only organization in the nation to have won two White House Awards Coming for excellence in youth arts programming. The Museum also has a very extensive performing arts program and its educational program is a national leader.
From 1975-1987, Tortolero worked as a teacher, counselor, and administrator in the Chicago Public School System. He has also served on numerous boards including the University of Illinois, the American Alliance of Museums, Chicago Department of Cultural Affairs, the Smithsonian Latino Center, the Illinois Humanities Council, and Choose Chicago (Chicago's tourism and convention board). He has won numerous awards for his work including the Ohtli Award which is the highest honor given by the Secretary of Foreign Relations of Mexico and is given to individuals "Who have distinguished themselves in the services of the Mexican community outside of Mexico."
Tortolero is the co-author of Mexican Chicago, a very well received photo history book of the Mexican community of Chicago. In addition, Tortolero has written articles for national and international publications. He has made presentations across the U.S. and internationally. He has also taught classes at University of Illinois at Chicago, The School of the Art Institute, and Northwestern University.
Tortolero has a B.A. in Secondary Education and History from the University of Illinois at Chicago and a M.A. in Bilingual Education Supervision from Chicago State University.
For more information on the 2016 Columbia College Chicago commencement ceremonies, and for a copy of the commencement guide, visit www.colum.edu/commencement.
Columbia College Chicago is a private, non-profit urban institution offering a distinctive curriculum that blends creative arts, media, liberal arts and business for 9,000 students in more than 100 undergraduate and graduate degree programs. Dedicated to academic excellence and long-term career success, Columbia College Chicago creates a dynamic, challenging and collaborative space for students who experience the world through a creative lens. For more information, visit www.colum.edu. 
###
Media Contact: Cara Birch, 312.369.8695, cbirch@colum.edu