The Dance Center of Columbia College Chicago to Present World Premiere Dance Performance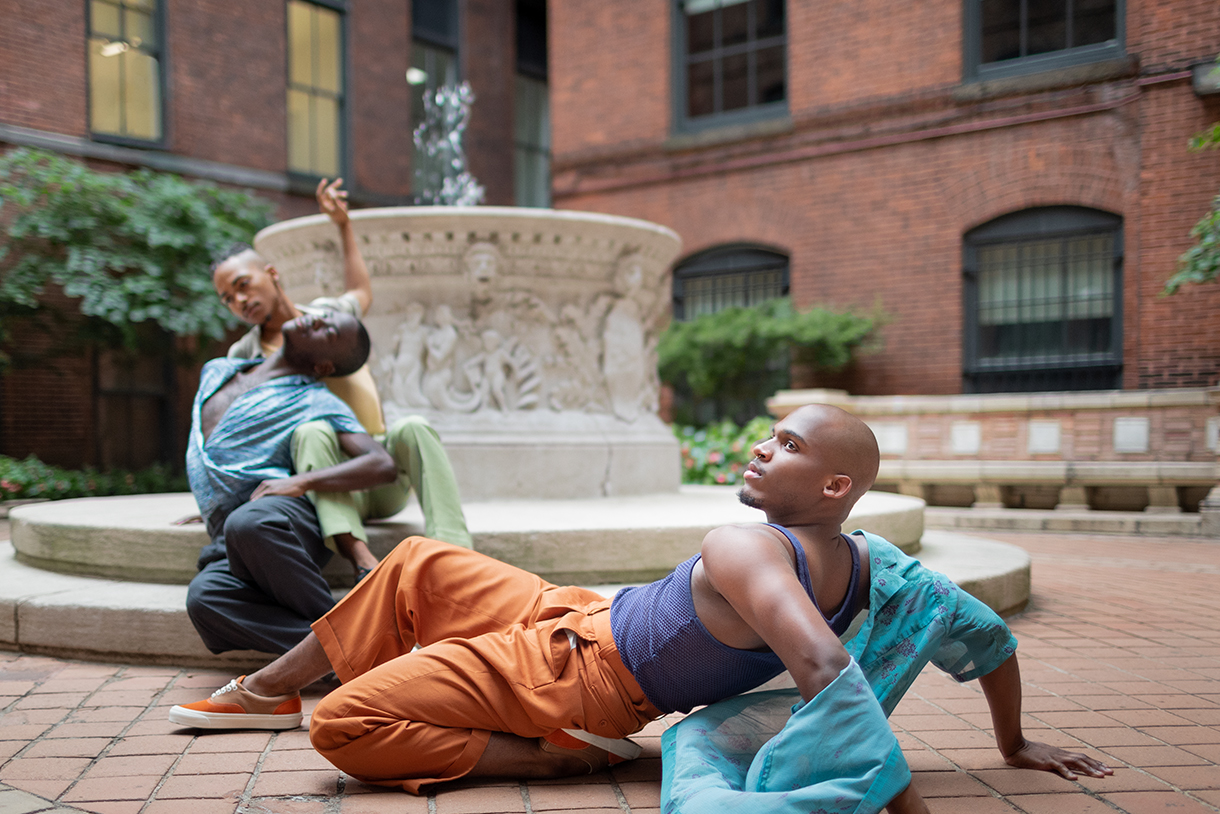 Kyle Abraham's newest work to be performed at the Dance Center
A.I.M by Kyle Abraham will be performing their world premiere of An Untitled Love, Abraham's newest evening-length work. Drawing from the catalogue of Grammy Award-winning R&B legend D'Angelo, this creative exaltation pays homage to the complexities of self-love and Black love, while serving as a thumping mixtape celebrating culture, family, and community.
An Untitled Love will be the first work to be performed before a live audience at the Dance Center of Columbia College Chicago at 1306 S. Michigan Ave. after more than a year of online programming.
"I have been hoping to host Kyle Abraham and the company at the Dance Center for several years, so I'm thrilled that this dream is coming to fruition," says Dance Presenting Series Director Ellen Chenoweth. "The company has so many connections in Chicago and I can't think of a better home for this new work than the city of Chicago and the Dance Center."
Performances will take place September 16 – 18, 2021 at 7:30 p.m. A post-performance discussion with Abraham moderated by Princess Mhoon of the Chicago Black Dance Legacy Project will take place on Thursday, September 16. There will also be a post-performance discussion with Abraham led by recent Columbia Dance alums Kennedy Alexandria Ward '21 and Audrey Hartnett '21 on Alumni Night—Friday, September 17. Columbia alums are encouraged to attend the Friday night performance.
Columbia continues to hold safety measures in place informed by guidance from the Centers for Disease Control and Prevention (CDC), the State of Illinois, the City of Chicago, and consultations with epidemiology experts from Rush University and the University of Chicago. All visiting artists and Dance Center staff have been vaccinated. Additional health and safety protocols have been set in place, including a larger lobby, increased cleaning measures, and an upgraded air filtration system. The theater will be limited to a 75% capacity and all patrons, regardless of vaccination status, will be required to wear a mask at all times while in the Dance Center.
General admission tickets are $30. Tickets for students at any institution are $10 and tickets for dance industry members and Columbia faculty and staff are $15.
Ticket sales will begin on August 17, 2021. Tickets will be available online at dance.colum.eduor at the Dance Center box office at 1306 S. Michigan Ave. The box office can be reached at 312- 369-8330 and is open from Tuesday – Friday, 2-6pm, and the two hours before each performance.
A.I.M by Kyle Abraham
Founded in 2006 by choreographer Kyle Abraham, A.I.M by Kyle Abraham is a Black-led contemporary dance company that provides multifaceted performances, educational programming, and community-based workshops. The mission of A.I.M by Kyle Abraham is to create a body of dance-based work that is galvanized by Black culture and history. The work, informed by and made in conjunction with artists across a range of disciplines, entwines a sensual and provocative vocabulary with a strong emphasis on music, text, video, and visual art. While grounded in choreographer Kyle Abraham's artistic vision, A.I.M draws inspiration from a multitude of sources and movement styles.
 
Since A.I.M's founding, Artistic Director Kyle Abraham has made more than 15 original works for and with the company. In 2018, A.I.M began commissioning new works and performing existing works by outside choreographers to expand its repertoire and offer a breadth of dance work to both the dancers and audiences. The repertory now includes works by Trisha Brown, Andrea Miller, Bebe Miller, Doug Varone, and A.I.M dancer and early-career choreographer Keerati Jinakunwiphat.
The Dance Center
The Dance Center of Columbia College Chicago is the city's leading presenter of contemporary dance, showcasing artists of regional, national and international significance. The Dance Center has been named "Chicago's Best Dance Theatre" by Chicago magazine, "Best Dance Venue" by the Chicago Reader and Chicago's top dance venue by Newcity, and Time Out Chicago cited it as "…consistently offering one of Chicago's strongest lineups of contemporary and experimental touring dance companies."
Programs at the Dance Center are supported, in part, by the Alphawood Foundation, The Richard H. Driehaus Foundation, the Illinois Arts Council Agency, the Martha Struthers Farley and Donald C. Farley Jr. Family Foundation, the Irving Harris Foundation and the National Endowment for the Arts. Additional support is provided by the New England Foundation for the Arts' National Dance Project, with lead funding from the Doris Duke Charitable Foundation and The Andrew W. Mellon Foundation, as well as the Arts Midwest Touring Fund, a program of Arts Midwest that is funded by the National Endowment for the Arts, with additional contributions from the Illinois Arts Council and the Crane Group. Special thanks to Friends of the Dance Center for their generous contributions to the Dance Center's work.  
MEDIA INQUIRIES

Daisy Franco
Communications Manager
dfranco@colum.edu