Student Center
Columbia's new student center opening this fall will provide students with the largest space in the college's history to collaborate across creative disciplines.
LIVE VIDEO: Construction in Progress
This fall, Columbia College Chicago students will have a dedicated multi-use space to collaborate across creative disciplines in a new, contemporary student center. The distinctive and innovative building will serve as a central hub for the college's expansive urban campus in Chicago's vibrant South Loop.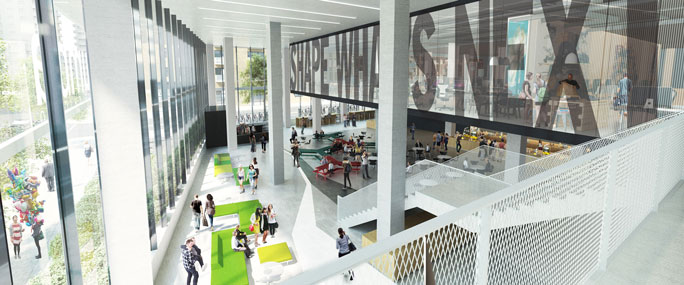 Preliminary rendering: Gensler
The five-story, 114,000 square-foot center reflects Columbia's dynamic role as an incubator for creative industries, and the college's commitment to empowering students, building community partnerships, and embracing diversity. Features include: 
Flexible, multi-purpose spaces to facilitate interaction among students of all majors and interests to reflect Columbia's multidisciplinary and diverse student population
Work and presentation spaces that share Columbia's creativity with Chicago
Game room with ping pong and pool tables
Wellness and fitness facilities, including "Reflection Room" for meditation and prayer
Gender neutral restrooms on every floor
Dining and recreation spaces
Event space that accommodates 800 people for both college and community events
Preliminary rendering: Gensler, Select Artist Images by Lauren Zens '12
Students, faculty, and staff at Columbia have long called for a student space on campus. As a result of the many collegewide "Dream Out Loud" input sessions held in 2015, the new student center captures the collective vision of the college community to meet the specialized and practical needs of its students.
Columbia selected architectural and design firm Gensler Chicago to lead the design and development of the student center. Over the last two decades, Gensler has worked on more than one hundred projects at Columbia.
LIVE VIDEO: Construction in Progress
Live or work in the South Loop and want to stay updated?
Sign up for the Student Center newsletter.