Student Center
Coming in 2019, Columbia's student center will provide students a space to collaborate across creative disciplines for the first time in the college's history.
LIVE VIDEO: Construction in Progress
For the first time in Columbia College Chicago's history, students will have a dedicated, multi-use space to collaborate across creative disciplines in a new, contemporary student center. Slated to open in 2019, the distinctive and innovative building will serve as a central hub for the college's expansive urban campus in Chicago's vibrant South Loop. 
Students, faculty, and staff at Columbia have long called for a student space on campus. As a result of the many, college-wide "Dream Out Loud" input sessions held in 2015, the new student center captures the collective vision of the college community to meet the specialized and practical needs of its students.
"As student leader at Columbia, I am excited about the student center and the new opportunities it will provide our students! Students will have a central location to form a stronger community of creators."
Malik Woolfork, former president, Student Government Association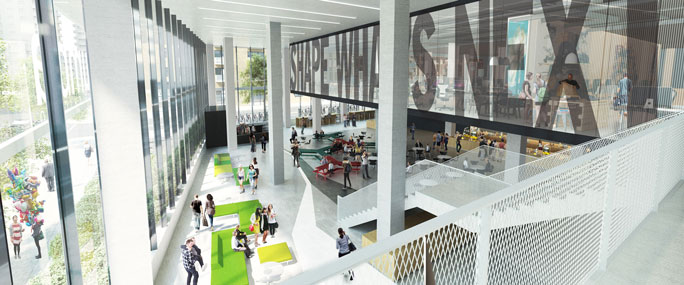 Preliminary rendering: Gensler
The five-story, 114,000 square-foot center also reflects Columbia's dynamic role as an incubator for creative industries, and reflects the college's commitment to empowering students, building community partnerships, and embracing diversity. Features include: 
Flexible, multi-purpose spaces to facilitate informal and formal interaction among students of all majors and interests, reflecting Columbia's multi-disciplinary and diverse student population
Work and presentation spaces that share Columbia's creativity with Chicago
Wellness and fitness facilities to nurture body and mind
Dining and recreation spaces
An event space that accommodates 800 people for both college and community events
"I am thrilled about our new Student Center! Columbia will benefit from a central hub where commuter and residential students alike can meet, collaborate, and hang out together outside of the classroom or residence halls. I believe it will improve the student experience by making students feel more connected to the campus and to one another."
Nick Shinners, Chairperson, Student Organization Council
Preliminary rendering: Gensler, Select Artist Images by Lauren Zens '12
Columbia selected architectural and design firm Gensler Chicago to lead the design and development of the student center. Over the last two decades, Gensler has worked on more than one hundred projects at Columbia.
LIVE VIDEO: Construction in Progress
Live or work in the South Loop and want to stay updated?
Sign up for the Student Center newsletter.