Creative Writing (MFA)
The Fall 2024 application is now open! We review applications on a rolling basis, and we encourage you to apply as soon as you have gathered your application materials to be considered for the widest array of potential funding opportunities.
Time to degree: 2 years across genres
Part-time options are available
Our Creative Writing MFA is a single, seamless program that allows you to take classes in as many genres as you like (poetry, fiction, or nonfiction). This MFA supports hybrid writing that combines elements of more than one genre.
We're interested in the rich literary history by which the genres are traditionally constituted, and in the ways in which such definitions may fall away.
Writing of all kinds happens here in a supportive, exceptionally creative community.
As a full- or part-time student in the Creative Writing MFA program at Columbia, you'll be a member of a vibrant community of writers of fiction, nonfiction, poetry, and hybrid work across genres. Innovative and exploratory approaches are encouraged, as are more traditional approaches to prose and/or poetic forms. With an unusually large, well-published, aesthetically diverse faculty, you'll be stimulated and nurtured as a writer in one of the most exciting cities in the country for emerging literary artists.
---
---
In our graduate seminars, workshops, and hybrid courses, the reading, writing, editing, translating, and critical engagement of texts are foregrounded in interdisciplinary, theoretical, historical, and international contexts. Our flexible, student-centered curriculum supports your participation in the literary conversation of our time, and you'll find opportunities to share your work outside the classroom as well as within. The MFA culminates in a substantial thesis that has benefitted both from workshop critiques and faculty guidance.
---
As a student in Columbia College Chicago's Creative Writing MFA program, you'll have close working relationships with our award-winning faculty members in an intimate community of writers. You'll find a home at Columbia if you're looking for a program that emphasizes discipline and process, craft and critical thinking, and cross-genre possibilities. Our faculty members will support you in your growth as a writer. As role models and authors, they'll encourage and inspire you to experiment, take risks, and engage with other writers and artists
Core Graduate Faculty in Creative Writing:
CM Burroughs

is the author of 

The Vital System

 (Tupelo Press, 2012) and 

Master Suffering

 (Tupelo Press, 2021,) which was longlisted for the National Book Award and a finalist for the Lambda Literary and L.A. Times Book Awards. Burroughs has been awarded fellowships and grants from Yaddo, the MacDowell Colony, Djerassi Foundation, and Cave Canem Foundation. Burroughs' poetry has appeared in 

Poetry, Callaloo, jubilat, Ploughshares, Best American Experimental Writing

, and 

The Golden Shovel Anthology: Poems Honoring Gwendolyn Brooks

.

Don De Grazia wrote the novel American Skin (Scribner) and other works which have appeared in TriQuarterly, The Chicago Tribune, The Outlaw Bible of American Literature, Rumpus, and elsewhere. He is a screenwriter in the WGA (East) and his rock opera, co-written with Irvine Welsh, debuted at the 2017 Edinburgh Fringe Festival, where it was short-listed for Best New Musical.
Lisa Fishman's seventh poetry collection is Mad World, Mad Kings, Mad Composition (Wave Books 2020). Earlier books include 24 Pages and other poems, F L O W E R C A R T, and The Happiness Experiment, on Wave and Ahsahta Press. Her poetry, essays, and hybrid works appear regularly in journals, and she is anthologized in Best American Experimental Writing, American Poetry: The Next Generation, and elsewhere.
Garnett Kilberg Cohen has published three books of short stories. Her prose has appeared in many places, including The Gettysburg Review, Witness, American Fiction, TriQuarterly, and The New Yorker (2019) online. Her nonfiction has twice been awarded Notable Essay citations from Best American Essays, and several of her stories have won awards, such as the Crazyhorse Fiction Prize and the Lawrence Foundation Prize. Find more information here.
Aviya Kushner is the author of The Grammar of God (Spiegel & Grau); a National Jewish Book Award Finalist, Sami Rohr Prize Finalist, and one of Publishers' Weekly's Top 10 Religion Stories of the Year; the chapbook Eve and All the Wrong Men (Dancing Girl Press); and the poetry collection Wolf Lamb Bomb (Orison Books). She is The Forward's language columnist and a Howard Foundation Fellow in nonfiction.
Alexis Pride's novels include All I Want For Christmas, (co-authored, Level 4 Press, 2021), Where the River Ends (Tanksley-Simpson Publishing), and Sex Kills with short fiction published in TriQuarterly, F Magazine, and elsewhere. Scholarly publications include "Teaching Beyond the Text: What To Do If Johnny Can't Read So Good?" (The ICERI Proceedings, Seville, Spain). See a sample of Pride's work here.  
Joe Meno is the author of seven novels and two short story collections, including Marvel and a Wonder, Hairstyles of the Damned, and The Boy Detective Fails. He is a winner of the Nelson Algren Award, the Great Lakes Book Award, and was a finalist for the Story Prize. His recent nonfiction book, Between Everything and Nothing, follows two asylum seekers in the Trump era.
---
Opportunities for Graduate Students
New MFA students may be admitted on a competitive basis to the Graduate Student Instructor program, which provides training in the teaching of undergraduate composition and is followed by the opportunity to teach Writing and Rhetoric upon approval. Assistantships are also available to new graduate students on a competitive basis. Students holding assistantships may work as teaching assistants, as editors on department publications, as events coordinators, or as faculty research assistants, among other possibilities.
---
With a Creative Writing MFA, Columbia alumni go on to find employment in teaching, editing, arts administration, public relations, nonprofit agencies, literary foundations, advertising, and copywriting. Many have started successful journals and independent presses while others work for national publications or continue their studies in doctoral programs. A stunning number of our alumni have had their books and chapbooks published by both major publishing houses and on highly regarded independent presses. They have won contests and awards judged by renown writers nationally and internationally. Their voices are part of the contemporary literary landscape.
Here are just a few of our alumni who have gone on to have their work published, often by winning prestigious contests:
Hafizah Geter (MFA '10)

 

poetry collection 

Un-American

, was published on Wesleyan University Press.

Jan-Henry Gray (MFA '16)

 is the author of 

Documents

, selected by D. A. Powell as the winner of the 2018 A. Poulin, Jr. Poetry Prize and published by BOA Editions.

 

Julia Fine (MFA '16)

 

is the author of 

The Upstairs House

 and 

What Should Be Wild

, which was shortlisted for the Bram Stoker Superior First Novel Award and the Chicago Review of Books Award.

Megan Stielstra (MFA '00)

 

is the author of three collections: 

Everyone Remain Calm

, 

Once I Was Cool

, and 

The Wrong Way to Save Your Life

, the 2017 Nonfiction Book of the Year from the Chicago Review of Books. Her work appears in the Best American Essays, New York Times, The Believer, Poets & Writers, Tin House, Longreads, Guernica, The Rumpus, and elsewhere.

 

Naomi Washer (MFA '15) is the author of a novel, Subjects We Left Out (Veliz Books) and several chapbooks including Trainsongs (Greying Ghost Press), Phantoms (dancing girl press), and American Girl Doll (Ursus Americanus Press). She is also the translator of Sebastián Jiménez Galindo's Experimental Gardening Manual (Toad Press).

 

Abigail Zimmer (MFA '14) is the editor of Lettered Streets Press and the author of two chapbooks as well as the full-length poetry collection, Girls Their Tongues, published by Orange Monkey Press.
Amy Lipman (MFA '14) poetry collection, Getting Dressed, was published by Spuyten Duyvil Press, and her chapbook, Cardinal Directions, was a runner-up for the Ghost Proposal Chapbook prize and published on Ghost Proposal.
Andrew Ruzkowski's (MFA '13) poetry collections are A Shape & Sound, Do You Know This Type of Tree, and Things That Keep Us From Drifting. After his MFA, he completed a Ph.D. at University of Wisconsin-Milwaukee. A generous scholarship in his memory has been established for students with a primary interest in poetry at Columbia College Chicago; for information about the Andrew Ruzkowski Memorial Scholarship, see here.
Brandi Homan (MFA '07) is the author of Bobcat Country and Hard Reds, published by Shearsman Books, and is co-founder of the feminist press, Switchback Books.
Brittany Tomaselli (MFA '15) won the 2019 Omnidawn Chapbook Contest (poetry) judged by Carl Philips, resulting in the publication of Since Sunday on Omnidawn.
Jeff Hoffmann (MFA '19) first novel, Other People's Children, published by Simon & Schuster.
Leif Haven (MFA '12) won the 1913 Prize judged by Claudia Rankine, resulting in the publication of his poetry collection, Arcane Rituals From the Future, on 1913 Press.
Kate Wisel (MFA '17)is the author of

 

Driving in Cars 

With

 Homeless Men

, winner of the 2019 Drue Heinz Literature Prize, selected by Min

 

Jin

 

Lee. She is also a part-time faculty

 

at Columbia.

 

Nathan Breitling's (MFA '11) poems have appeared in journals such as Court Green and The Columbia Poetry Review. A generous award in his memory has been established for MFA students with a primary interest in poetry at Columbia College Chicago; for more information about the Nathan Breitling Poetry Fellowship, see here.
Sahar Mustafah (MFA '14) first novel was published by W. W. Norton; The Beauty of Your Face has been reviewed in the New York Times and elsewhere.
Tyler Flynn Dorholt (MFA '09) co-edits and publishes Tammy and his chapbook, Modern Camping, was selected by John Yau for the Poetry Society of America chapbook prize. His first book, American Flowers, was published by Dock Street Press.
Toya Wolfe's (MFA '15) 

first novel 

Last

Summer

On

State Street

was published by

William Morrow and

recently won the

$25,000 Pattis Family Foundation Chicago Book Award

. The novel has

received global acclaim.

 

Books, chapbooks, zines, journals, and presses have also been published and established by many other prolific MFA alumni, including: Becca Klaver, Chris Terry, Erik Fassnacht, Geling Yan, Geoff Hyatt, Holly Amos, Jessie Ann Foley, Joshua Young, Kelly Forsythe, Ryan Spooner, S. Marie Clay, Steven Teref, Toni Nealie, and more.
---
Chicago: A City of Writers
Living and studying in Chicago means you'll have access to one of the richest literary scenes in the country. Readings that are free and open to the public are hosted across the city almost every night of the week; many include open mic opportunities for newcomers. Whether you incline toward story-telling venues, poetry readings, slams, avant-garde literary theater, lectures, spoken word performances or fiction readings, Chicago provides a welcoming environment for both new and established writers.

Our downtown location in the South Loop sets the stage for surprising, challenging, and inspiring conversations among artists, educators, activists, scholars, and performers––whether in museums, galleries, bars, on the subway or in the street.  

You'll be provided with a free CTA pass while you're in the MFA program, as well as free membership at the Chicago Institute of Art and the Museum of Contemporary Art, so you can explore Chicago's wealth of creativity to your heart's content
---
The Efroymson Creative Writing Reading Series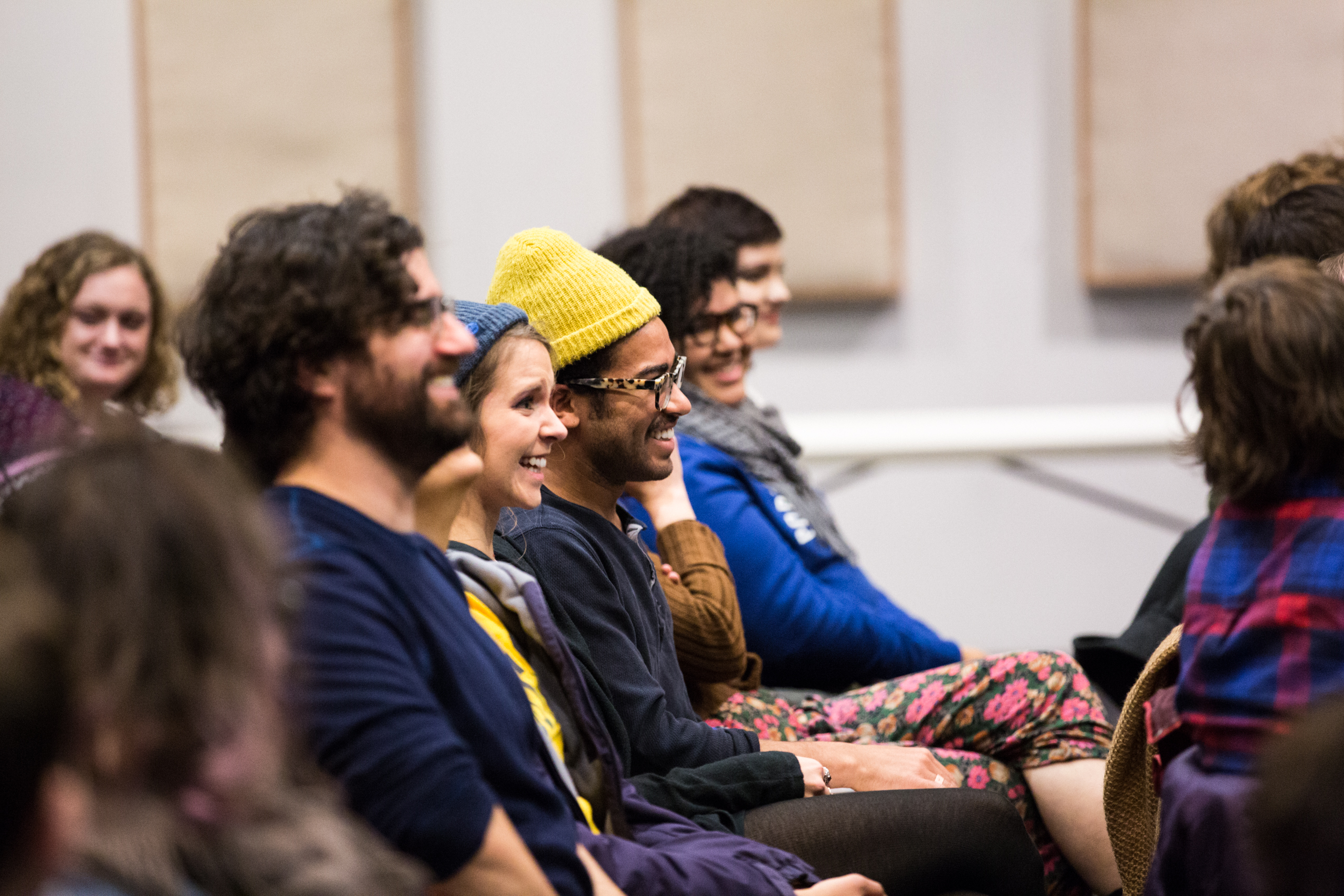 The Efroymson Creative Writing Reading Series at Columbia College Chicago has a long tradition of featuring nationally and internationally renowned writers. Hosted by the Department of English and Creative Writing, the series is committed to presenting critically engaged contemporary authors and embracing diverse voices. Every author who reads in our series also meets in an intimate, informal setting with our MFA students and a faculty host either after or before the reading. And our own MFA students "open" for the featured writers by giving a short reading of their own.
---
Fridays at Five Graduate Students Reading Series
The Fridays at Five Graduate Student Reading Series
at Columbia College Chicago gives writers
the opportunity to share excerpts of their developing work
of fiction, nonfiction, and poetry
. Coordinated by a graduate student, the event features
several selected readers each month
, who share their
prose and poetry with
an audience of
students and faculty
.