Journalism Symposium Brings Secretary of Interior to Columbia and Learning Opportunities to Students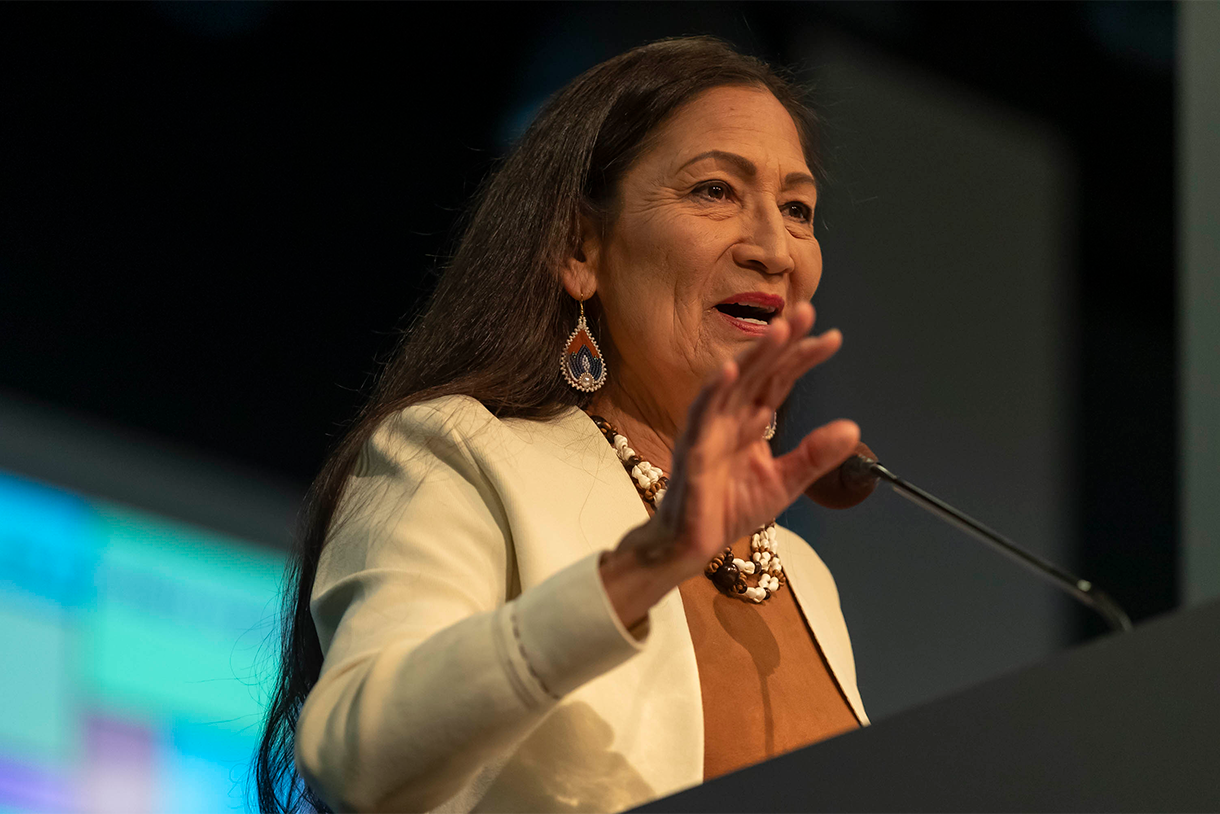 The Journalism and Women Symposium comes to Columbia with invited speaker Deb Haaland, U.S. Secretary of Interior, and offers important takeaways for Journalism students.
Columbia College Chicago welcomed the Journalism and Women Symposium (JAWS) to campus October 13 to 15, 2023. JAWS brings together working journalists, journalism educators, and researchers from across the country to share resources, support, training, and information about issues that affect women in the field. The event, which featured U.S. Secretary of Interior Deb Haaland as a keynote speaker, came to Columbia thanks to long-time JAWS member and Associate Professor Jackie Spinner and JAWS Deputy Vice President and Adjunct Faculty Member Pat Sullivan and provided a unique opportunity for student involvement from the "The Columbia Chronicle" staff.  
"Chronicle" reporters Robin Sluzas and Sydney Richardson and photographer K'Von Jackson were among those Columbia students who covered the event for the collegiate news organization, and other "Chronicle" students participated by making buttons and providing headshots for attendees. These Journalism students had hands-on learning opportunities at the event and a chance to enjoy educational sessions, including ones focused on artificial intelligence and journalism, the importance of local journalism, and inclusivity in storytelling. 
"I've been involved with JAWS since I was in my early 20s and a rookie reporter at "The Washington Post." It has always been a supportive and inclusive space for me that I've relied on through my career," Spinner says. "I love that my students will get to experience that, and I hope they will be as awed as I was by the talent and intellect of the trailblazers in the room, just as I was." 
For Sluzas, who is in her fifth semester reporting for the "Chronicle," the experience proved extremely valuable. In a role reversal for the reporter, we asked Sluzas a few questions about the event and her takeaways as a reporter covering it.  
How did it feel to cover an event with such a high-profile person as Secretary of Interior Deb Haaland? 
I was excited and a little nervous but for the most part, I was fine. I did a lot of research prep, arrived early, staked out my spot and pre-wrote the story to the extent I could. Our journalism program at Columbia and in particular, the "Chronicle" has me well-prepared for an event like JAWS and a dignitary like Secretary Haaland. 
While Secretary Haaland is the highest profile person from the political arena I've covered on my own so far for the "Chronicle," I've gotten quotes that were used in previous stories from Gov. J.B. Pritzker, Chuy Garcia, Cook County Assessor Fritz Kaegi and a few more state and city people who play parts in the Chicago and Cook County political arena.  At the "Chronicle," we run like a professional news media shop. 
As a journalist, what did you find most impactful about what Haaland said? What was most impactful about the event itself? 
That our lived experiences are, as Secretary Haaland said, are not just a nice idea. That they inform all of our work no matter who we are and what we do. Another idea she talked about is to support each other across the intersections of our lives. To be mindful that while we have different lived experiences that are extremely valuable to our specific stories, they are our collective strength when pursuing a goal that unites us. Secretary Haaland called it our superpower. 
As a learning experience, what were your biggest takeaways from covering the event? 
On Friday evening at the opening night reception, I took a moment to step away from these women with long and storied careers in journalism to quietly observe for a moment. I realized that in that room, the historical breadth of lived experiences and wisdom I was seeing was profound.  
I talked to women who were the glass-ceiling breakers in journalism! I realized how lucky I was to be in the company of these powerful journalists and power brokers who started where I'm at now. I also learned when listening to Secretary Haaland, an incredibly wise and accomplished human being, that she is spot on when she advised us to take care of and support each other; the very same behavior I watched those women live in every moment of every day of that weekend. With all the divisiveness, anger and more in the real world today, being in such a supportive environment was a gift I'll never forget. 
I also learned that such a pivotal and defining moment in journalism would not have been possible for me without the "Chronicle," our management, and my teammates. 
Finally, I learned that even someone like me, a senior citizen, can have a career in journalism; I am a unique outlier and I never expected to have an opportunity like this. 
In what other ways were "The Columbia Chronicle" Journalism students involved with the event? 
The reality is, as the person who wrote and reported the story, it takes a lot more people than just me to stand up a story through to publishing. We were on a very tight deadline and had to publish that evening. 
My colleague, senior photojournalist K'Von Jackson, a supremely talented Chronicle photojournalist, took the amazing photo of Secretary Haaland you see accompanying the story and got his photos, including captions loaded in by the end of the Secretary's address. He also took courtesy portraits of the women of JAWS. Reporter Sydney Richardson was at the table with us as Secretary Haaland spoke, helping as well. 
Our Editor-in-Chief Olivia Cohen grabbed the story as soon as I put it onto our editing track and edited it. Once it was edited, Jordan Dawson, one of our copy editors checked it for grammar and AP Stylebook compliance. The next day, Emily Ramirez, one of our social media content creators decided, with input from Managing Editor Kim Vazquez, to run it on social media on Monday, for maximum impact. The story ran on our digital site the same day Secretary Haaland spoke. 
At the event, Director of Photography Abra Richardson was also present helping K'Von with courtesy portraits for JAWS attendees, along with Ruth Johnson, our Creative Director and Addison Annis, another PJ who put together some nice buttons representing JAWS and the "Chronicle" for attendees to wear. I saw lots of attendees taking them.  
And last but not least, our Faculty Advisor Jackie Spinner and General Manager Jeremy Shermak were watching and guiding us the whole time. Shout out to our Communication Chair Peg Murphy who was present and had our backs too. 
 What have you learned from your work at the Chronicle that helped in covering the story? 
That we truly are a team. While we each have our own lived experiences and individual roles and responsibilities, I can count on any one of these people. The result is a comprehensive chronicling, no pun intended, of what's happening on our campus, in the City of Chicago and beyond.