Welcome to Fall 2023 at Columbia College Chicago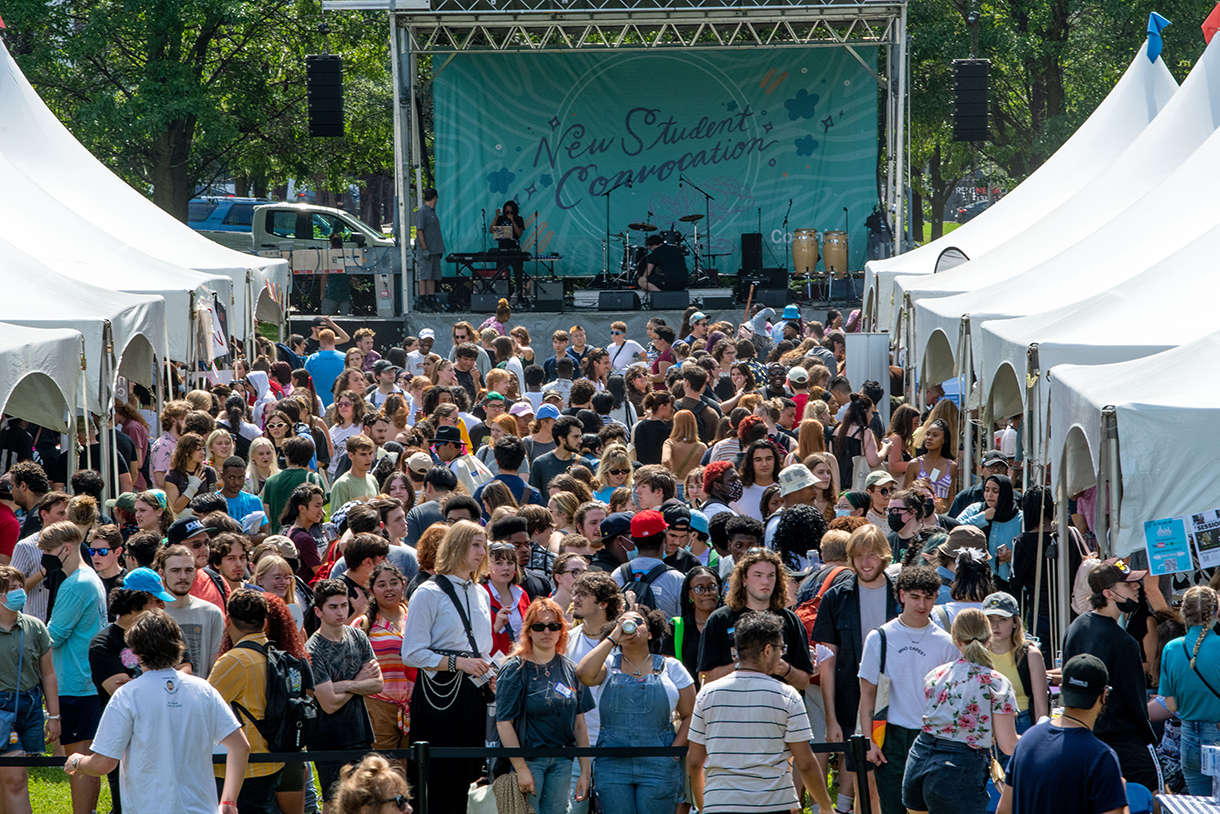 Get ready for a jam-packed semester at Columbia College Chicago with events for students, families, and the community.
The beginning of the 2023 school year is almost upon us. Students, faculty, families, staff, and community members will have plenty of opportunities to learn, grow, and help Columbia College Chicago shape what's next.  
Here are some important dates and events to keep in mind over the next few months: 
Convocation + Welcome Activities  
On Friday, September 1, all new students will attend Connections. Connections events are the first chance to come together as a cohort and participate in events hosted by academic departments. After the morning Connections event, students will follow their Engage leader to Grant Park for Columbia's annual New Student Convocation from 12 to 3 p.m. 
At New Student Convocation students will;  
Take a class picture 
Hear from college and student leadership 
Dance to the Manifest 2023 song winner and other Columbia student music  
Have lunch and play games 
Meet folks from support and services and student organizations 
RSVP in the Engage app for these events and many others that take place over the course of the weekend and following weeks. 
Major Academic Dates + Resources 
Keep these important dates and resources in mind when preparing for the Fall 2023 semester.  
Classes begin on September 5, and students can add classes until September 11. The deadline to drop classes is September 18 and students can withdraw until November 3.  
It will also be time to start preparing for future semesters sooner rather than later. The FAFSA opens on October 1 for the 2024-2025 school year.  
Leading up to registration's opening in October, check for account holds that will prevent registration. This could be for missing or out-of-date vaccinations, financial discrepancies, or other administrative issues. These issues can take some time to resolve, therefore, be sure to address prior to registration's opening to help keep things moving smoothly.  
Throughout the semester, Columbia's academic resources help prepare students for success in the present and the future. Take advantage of the College Advising Center, Career Center, and Academic Center for Tutoring.  
Galleries and Attractions  
Inspiration is around every corner at Columbia College Chicago, and much of it is open to everyone.  
Sign up for a free visit to the College's Museum of Contemporary Photography. In addition to the museum's large collection, keep an eye out for their many exhibitions and events that bring diverse artists to campus.
Take advantage of the beautiful Chicago summer and fall weather and walk through the Wabash Arts Corridor. This Columbia favorite features murals large and small across the South Loop and is on the "USA Today 2023 10Best Readers' Choice" list for Best Arts District.  
A short-term addition to the Wabash Arts Corridor is the "From HER to Eternity: The Women Who Photograph Music." The installation from ARChive of Contemporary Music hangs on the windows of the Student Center at the corner of Wabash Ave. and Eighth St. The installation will be up until September 18 and features iconic photos shot entirely by women.   
It's a big year for the Columbia College Chicago Dance Center as it marks its 50th anniversary. This year-long celebration will draw professional performers from across disciplines and the world, explore the past, present, and future of dance, and highlight the creativity and groundbreaking work of Columbia students and faculty.  
Explore the City 
One of the benefits of Columbia's location in Chicago's South Loop neighborhood is the access to affordable cultural events on and off campus.  
Columbia's campus is within walking distance of the iconic museum campus. Many institutions have regular free admission days and so do many other museums across the city. There are also always free activities and events in Chicago every fall, including the architecture event Open House Chicago, Millenium Park's Chicago Jazz Festival, nearby Printer's Row Lit Fest, ice skating in Millenium Park, and much more.