Graphic Novel Captures a World on the Brink
Illustration alum Nick Drnaso's "Sabrina" is the first-ever graphic novel to be longlisted for the Man Booker Prize.
When Illustration alum Nick Drnaso '11 completed his graphic novel Sabrina, he wanted to suspend its publication indefinitely. "It was a difficult and exhausting project, and I felt pretty horrible about the finished book." Sabrina is now longlisted for the 2018 Man Booker Prize in the fiction category—the first time ever for a graphic novel. Author Zadie Smith calls Sabrina "the best book—in any medium—I have read about our current moment." That kind of high praise continues to surround Sabrina, a book that explores topics such as trauma, mass shootings, conspiracy theories, and the effects of our current media climate.

Missing Persons
Drnaso's book begins with the titular Sabrina's disappearance. The novel follows her boyfriend, Teddy, and the heavily publicized and circulated video of Sabrina's murder. Teddy's processing takes place in the confines of his friend Calvin's home, who is also navigating his own grief. Calvin receives conspiracy messages online implicating him in Sabrina's death, and Teddy finds comfort in an Infowars-style radio show. Through these characters, Drnaso illustrates how the media can manipulate its audiences with paranoia, sensationalism, sanitized violence, and human detachment.

For Drnaso, Sabrina came from "experiencing a lot of panic and fear around a number of different things, and just being an anxious person in general led me to spend too much time worrying about hypothetical situations." Though he mined some of his own experiences for the book, Drnaso assures that "everything else in the story is fiction."
Less is More
Drnaso's visual minimalism artfully offsets the complex themes that run throughout his book. When Drnaso was a student at Columbia, he studied with Design Associate Professor Ivan Brunetti whom he considers "an invaluable member of the faculty and best teacher I've ever had." Brunetti's flat, minimal visual style is a clear influence on Drnaso. In Sabrina, there are no stark colors, settings are unfussy, there is not much variation in how the panels are laid out over the 200 pages, and the facial expressions of each character are consistent throughout. "I developed this kind of neutral expression which was used a lot in Sabrina, so it's always interesting to hear how the faces are interpreted," says Drnaso, who himself has shied away from the recent spotlight.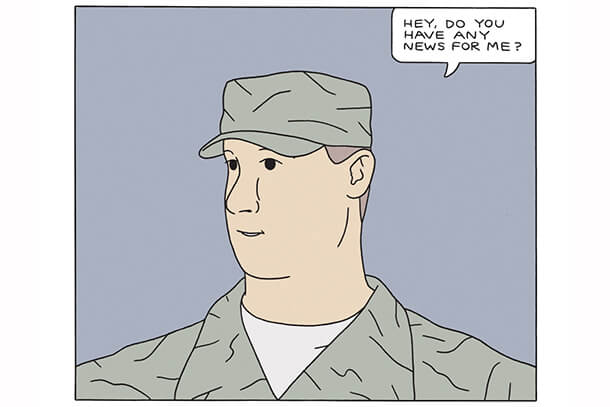 Disrupting the Man Booker Prize
This year, Sabrina joins 13 other nominations along with titles by Michael Ondaatje, Rachel Kushner, and books by writers from four other countries in competition for the Man Booker Prize, which celebrates its 50th anniversary.

Kwame Anthony Appiah, who chaired the panel of five judges, noted that the books chosen this year seem to "capture something about a world on the brink. Among their many remarkable qualities is a willingness to take risks with form. And we were struck, overall, by their disruptive power: these novels disrupted the way we thought about things we knew about, and made us think about things we didn't know about."

In the two weeks following the Man Booker longlist announcement, Sabrina had sold over 1,500 copies. Sabrina's publisher reports that sales have more than doubled since the longlist announcement.

What's Next for Sabrina
The shortlist of six books will be announced on Thursday, September 20. The shortlisted authors each receive £2,500 and a specially bound edition of their book. The 2018 winner will then be announced on Tuesday, October 16 in London. The winner of the 2018 Man Booker Prize receives £50,000 and can expect international recognition.
Cover of Nick Drnaso's "Sabrina" which is longlisted for the Man Booker Prize, one of literature's top prizes.