Interdisciplinary Arts and Media, MFA
"Columbia offers students access to equipment, laboratories and spaces for exploration that are designed to expand their technical and creative skills. They have tools that I as a student could only dream of. Their teachers are experienced masters of their craft, expertly able to guide and support the students, teaching them how to bring their inner vision into the world." - Bill Viola, video artist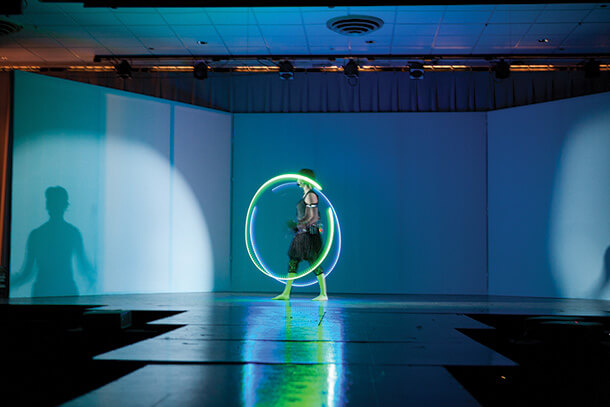 Degree Requirements
This three-year 60-credit MFA comprises: Graduate Electives (24 credits), Excavating the Image (2 credits), Code/Language (2 credits), Shaping Solid Light (2 credits), Space & Place (3 credits), Art as Discourse (3 credits), Art as Practice (3 credits), Connected Studio Practices (3 credits), History Requirement (6 credits), Theory/Practice Requirement (6 credits), and a Thesis (6 credits).
Diverse And Hybrid Coursework
The Art and Art History Department has two graduate degrees. We encourage students to embrace the permeable nature of our programs to investigate a vast array of department offerings including studio courses in video, electronics, sound, interaction, performance, installation, and creative writing, and theory/practice courses addressing topics such as autobiographical art, the body, visual narratives, and art and science collaborations.
Read about the student experience
Transformative Education
"Interdisciplinary Arts dramatically changed my practice. I was originally trained as a photographer and sculptor; my work now includes software design, interactive installation, performance, social practice, sound, wearable electronics, 3D modeling and so much more. My tools have grown because of the conceptual rigor inherent in the program – now, I think about what I am trying to say or accomplish, and then set out for a medium that best supports that concept. Because of my professors, I'm confident I will be a working artist the rest of my life – making, and loving what I do." – Leo Selvaggio MFA '14
"I came in with a background in dance and theater, but was making work that didn't fit squarely into either. In a lot of ways, I was sick of those genres. Columbia helped me realize why I was resisting technique and conventions. I was encouraged to put my personal concerns into practice and develop methods to support that work. Now, I explore concepts of agency and identity as social practice; my work is unbound by genre or precedent, firmly supported by research." – Megan Pitcher MFA '14
Alumni Success Stories
Erik Austin Deerly MFA '08 is an assistant professor and program director of New Media Communication at Indiana University, Kokomo, and co-founder of Burrdowning Press. He creates interactive work for print, web, film, dance, video, performance and installation. Deerly has recently shown work at the Bona Thompson Memorial Center in Indianapolis, the Los Angeles Center for Digital Art, Austin Peay State University, Delaplaine Visual Arts Center, Providence Arts Clun and the Jeffrey Leder Gallery in New York City, among others.

Diane Derr MFA '07 is an assistant professor and curator of the Innovative Media Studio at Virginia Commonwealth University Qatar, where she teaches time-based and interactive media in the MFA Design Studies program. Derr recently presented lectures and papers at a number of conferences including the Di-Egy Festival in Cairo, Xarts Conference in Greece, the Consciousness Reframed in Lisbon as well as at the University of Toronto, University of Rome and University of London.

Hale Ekinci MFA '11 is an assistant professor of art at North Central College in Naperville, Ill., where she teaches in the Interactive Media Studies Program. Her work includes creative fiction, mixed media, video and animation, and has been shown at Queens College Art Center, Oracle Art, Black Cloud Gallery, Block 37, River East Art Center, and the Chicago Museum of Contemporary Art with Redmoon Theatre.

Erin Rehberg MFA '09 is founder and artistic director of Core Project Chicago, a dance-based interdisciplinary arts collective, and director of the arts facility Side Street Studio Arts in Elgin, Ill. Rehberg has been on faculty at the Interlochen Center for the Arts and Tennessee Governor's School for the Arts. She teaches at Middle Tennessee State University and DanceEd Dance Center in Northbrook, Ill. A 2010 recipient of a Chicago Cultural Center DanceBridge Residency and 2011 recipient of a residency at the Studios of Key West, Rehberg has had her choreography produced around the United States and China.

Nicholas Sagan MFA '12 was awarded a yearlong Chicago Artists Coalition Hatch Projects Residency, which has involved a number of exhibitions in Chicago, including at the Hyde Park Art Center, Comfort Station, MANA Contemporary, TriTriangle, Sullivan Galleries and NO MEDIA. Sagan teaches at the School of the Art Institute of Chicago in the Film, Video and New Media Department.
For More Information
Contact Paul Catanese, director of Graduate Studies for Art and Art History, at pcatanese@colum.edu.